Morris Jacobs, one of our founders, was one of four Omaha businessmen to convince the NCAA to bring its men's baseball tournament to the city in 1950. We've been involved in building the event ever since. And loved every minute of it.
Our job? To get the word out. To make sure those who plan to attend have all the information they need. To continuously promote the event in order to reach new prospects. Through a combination of advertising, public relations a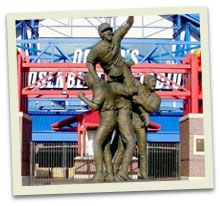 nd online communications we efficiently and effectively communicate before, during and after each June event.
We constantly seek and develop new low-cost ways to gain more exposure for the event – from coordinating press conferences, requests and media alerts for the hundreds of media attendees to developing, updating and managing the website viewed by millions to sending out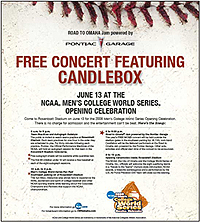 mobile text alerts to traveling fans.
From a mere 17,000 attendees in 1950 to a sold out crowd of more than 330,000 in 2008, the NCAA Men's College World Series has become an iconic event in the world of sports with an atmosphere and spirit like no other.  The Road to Omaha is a dream of college players across the nation and will be for many years to come.