The term "Mobilegeddon"  has being bandied around the last few days by the media to characterize the change Google is implementing today relative to mobile search results.
While Google's algorithm change will certainly impact many companies that don't have mobile-ready sites, it's a logical move. And one Google has been pushing for the last two years. In reality, we've ALL been talking about the impact of mobile and this change may be the push needed to make sites more usable for consumers.
Last year was a tipping point — the first time that adults in the US spent more time on mobile devices than they did on PCs. And given our mobile world, that gap will widen this year and continue to grow.
The fact is, the majority of US consumers now regularly use a smartphone and nearly half of the population now uses a tablet. More than a third of consumers are using both smartphones and tablets. A full 7 percent of US adults are completely dependent on their smartphones for Internet access.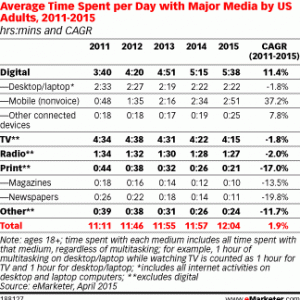 When you look at total daily media time per US consumer, it's now at 12 hours and four minutes a day, up seven minutes from last year. With almost half of that spent on digital.
When you drill down by media, the growth rate of mobile is at 37% (CAGR). And that's just the tip of the iceberg of what's to come.
The fastest growing area on mobile is video consumption, with a staggering 91% CAGR. eMarketer's data shows consumers are watching less TV, but spending more time with video in other places, most notably on their mobile devices.
Display and video will be the fastest-growing mobile ad formats as digital ad dollars quickly shift from desktop to mobile, and ad products improve. US mobile display and mobile video ad revenues are projected to grow at an astonishing CAGR of 96% and 73%, respectively, between 2013 and 2018.
This change won't be without pain. Recent reports estimate that 40% of the leading sites failed Google's mobile-friendly test and may be down-ranked in search. But it is good news for consumers, because it will push organizations to improve their sites to make them more usable on mobile devices.