We've all heard by this point how much the pandemic has created a monstrous shift in retail consumption and e-commerce sales. E-commerce retail now accounts for roughly 16% of total retail sales compared to only 11% pre-COVID-19. Amazon is still 6.7x larger than the next closest retailer but spots 5–10 are in a tight race. And in fact, Kroger for the first time has broken into the top 10.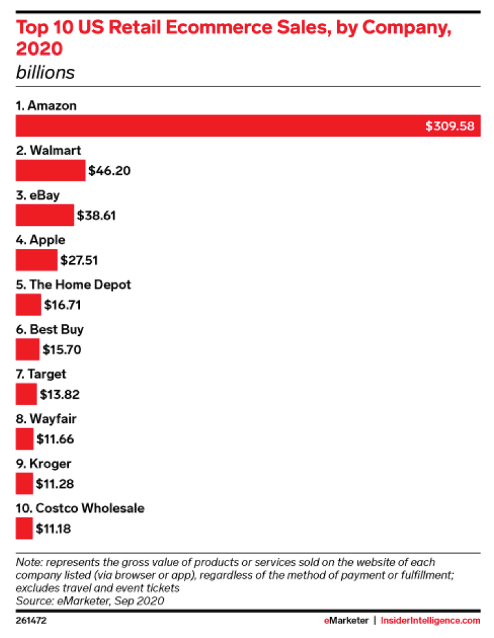 This begs the questions: Are your e-commerce product listings up to snuff specifically at these retailers? Are you optimizing them to their fullest potential? How are you sizing up compared to your competitor's listings?
This blog will focus on Amazon and the three things you definitely need to be doing on that platform if you aren't already. But in order to get access to these brand benefits, you first need to be a brand-registered seller.
A+ Content
A+ Content is also referred to as "enhanced brand content." It is the content that lives below the fold on your product detail page. It's located below all the featured items and is typically housed under "From the manufacturer." As a seller, you can use this additional real estate to create a more immersive brand experience with eye-catching visual content that engages and educates shoppers. It's an opportunity to bring your brand story to life and build an emotional connection. Amazon offers a handful of modules to choose from making it easy for sellers to populate the section with additional product shots, product uses and benefits, lifestyle images, videos and much more. You can even add comparison charts to make it easy for shoppers to compare and navigate the various products in your line. A+ Content helps to build consumer trust and is known to increase sales and conversion rate.
To get started: In Seller Central, A+ Content manager is found under the advertising tab.
Brand Store
Just like it sounds, it's a store where sellers can feature their entire product catalog in one consumer-friendly place to shop via a unique Amazon.com URL. You can have a single landing page or multiple pages within your brand store which are often used to segment out different product categories. Like the A+ Content, Amazon offers various modules and tiles to choose from. You can include branded visual content here as well (usually found on the home page), but the main goal is to create a short path of purchase. The store should be heavily loaded with each individual product offering which will dynamically pull in the content from the product's listing page including the image, price, reviews and Add to Cart button. Each product can also link to its full listing for shoppers to grab more information as needed. The store can be accessed from your product detail page by clicking on the brand's byline and can be linked to from your sponsored brand ads or an external source. Amazon provides Store insights giving you an understanding of Store-related page views, visits, sales and traffic sources – all of which can be used to help optimize your ad campaigns.
To get started: In Seller Central, navigate to Stores.
Vine Reviews
The Amazon Vine Review program is a free program that is available for brand-registered sellers on Amazon. It's an easy way to quickly get some early reviews on new items. To qualify for the program, you must:
Have fewer than 30 reviews on your listing
Have available inventory of your product
Your listing must have an image and a description
Your product must be a Fulfillment by Amazon (FBA) offer in "New" condition
Your product must already have launched at the time of enrollment
Vine reviewers, also known as "Vine Voices," are considered to be some of the most trusted reviewers on Amazon. Amazon invites them to participate in the program based on the helpfulness and quality of their reviews. Their only compensation is the free product they receive from Amazon via the participating vendors.
The reviews they leave are well-thought-out and detail-oriented compared to the average customer review. It's not uncommon to see 2–3 paragraphs of feedback or a pros-and-cons list along with user-generated images and videos.
Here's how it works. The seller submits 30 units of inventory to Amazon. Amazon provides the free product to the Vine reviewer to test the product out in exchange for a review. You can receive up to 30 reviews for each product and most of the reviews are live on Amazon after 30 days. Before participating in this program, it's important to note that the Vine Voices aren't required to provide a favorable review; they will provide honest feedback. As a seller, you should only submit products that you have already vetted and feel confident about.
An added benefit of generating all of these reviews so quickly on new items is that the reviewers will often bring to light a product feature or benefit that you hadn't considered or pose a question around something that you need to address. These insights can be used to enhance your product page with updated bullets, imagery, etc.
To get started: In Seller Central, Vine is found under the advertising tab.
So which of these three Amazon opportunities will you start exploring today?