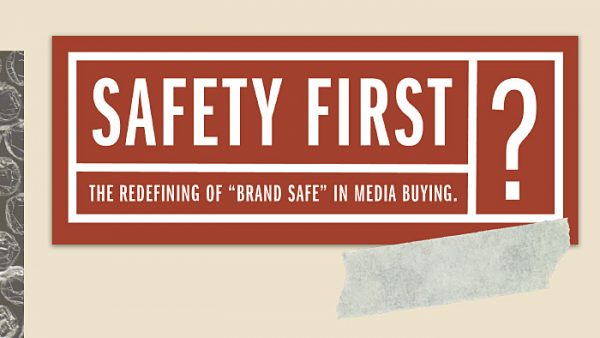 The redefining of "brand safe" in media buying.
Over the last 10+ years, digital media buying and various targeting methods have grown exponentially. And as a media buyer, the old way of looking at brand-safe placements has shifted, too. Nowadays, the definition of "explicit" or "inappropriate" content has expanded into politics, news, influencer/celebrity personal affairs and more. 
For example, in December of 2019, Hallmark and Zola found themselves in a tug of war between advocacy groups, with the brands and consumers taking the brunt of the ramifications. Zola—a wedding planning site—had purchased ad space within the Hallmark Holiday Movies programming and ran an ad that featured a same-sex couple. Hallmark received complaints from an advocacy group saying the content was not family-friendly. Feeling the pressure, Hallmark pulled the ad. But word quickly spread of the decision and the opposing viewpoint and backlash grew. Hallmark, trying to avoid controversy, was smack dab in the middle of it, and Zola was forced to defend the placements in the first place. 
With consumers and advocacy groups pushing and pulling marketers and publishers in various directions, what exactly does "brand safe" mean today? 
It means focusing on more than placement. You have to start with an understanding of your brand in regard to brand promise, value propositions, mission, vision, company culture and core beliefs. Then look beyond a publisher's placements and content and understand their brand, culture and core beliefs. Brand safe is now about who and why, not just what and how. We are way beyond brand reputation management and mitigating risk. Consumers and advocacy groups alike are now looking at these placements as endorsements and holding you accountable for those choices.
We are in a very polarized media landscape, but there is still hope for more than just brand-safe placements. We can move from brand safe to brand enhanced.
How do you enhance brands with media buying?
Focus on a strategy that surrounds your audience and reinforces your brand promise.

Seek out media partnerships, not just placements.

Stay informed and keep your finger on the pulse.

Optimize early and often. 
Say "I Do"

 
to a Healthy
Brand Partner 
You've worked hard to ensure you're partnering with your ideal organization. Your reasons to exist are simpatico, and you share commonalities when it comes to reaching a specific audience. All that's left to do now is to get them to say your name and use your logo as often as possible, right? Not if you truly want to connect with your audience.
Think of a branded partnership like a healthy marriage. Both partners have specific characteristics that make you stronger together. Additionally, they provide value to each other and their mutual friends. 
The takeaway here is that integrating creative is way more than placement. It's about creating a common bond that feels real and purposeful for the audience. Without this authenticity, your partnership could be perceived as fake and have the opposite intended effect for both organizations. 
Want to see these tips in action? Check out our 529 College Savings Plans "For Their Future" campaign case study where we helped secure a media partnership that benefits both the publisher and the brand.