A New Broadway Hit
Bozell was tasked with naming, branding and creating a one-of-a-kind magazine that would break far beyond the fourth wall of Broadway shows and find answers to questions no one else would even think to ask. It needed to be elevated in style and filled with rich content so that it would appeal to Broadway aficionados and influencers throughout NYC.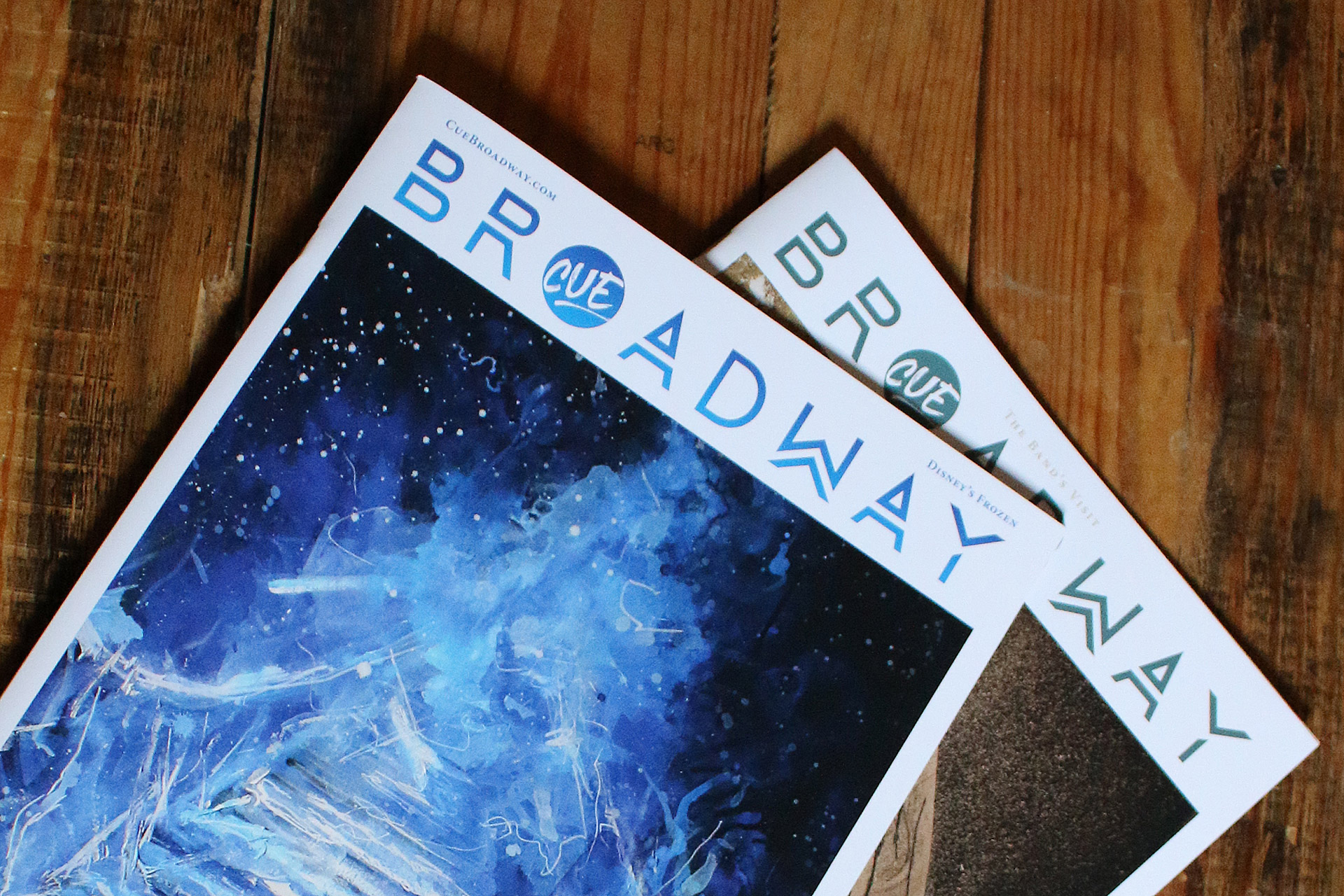 Insights
In an effort to compete against the big boys like Playbill and Broadway.com, a client came to us looking to shake things up. His vision was to create a magazine that outdid all of the others. A magazine that would dive deeper into the story, call forth the true spirit of the arts, and impress even the most tapped-in Broadway enthusiasts. He wanted it to have a unique insider perspective, making it the go-to magazine for show information. But he was starting from scratch and needed everything from a name and logo to direction on branding and content structure.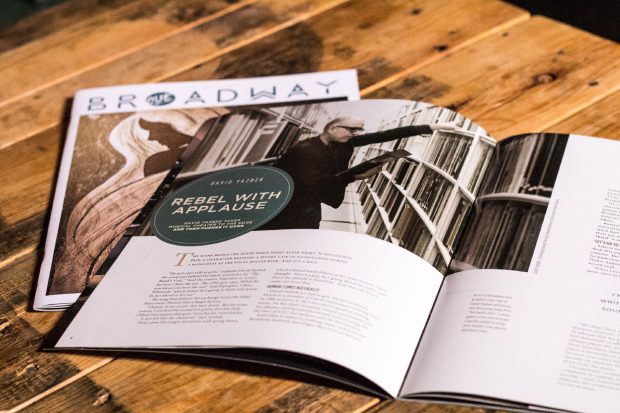 ---
View the Interactive Version at: CueBroadway.com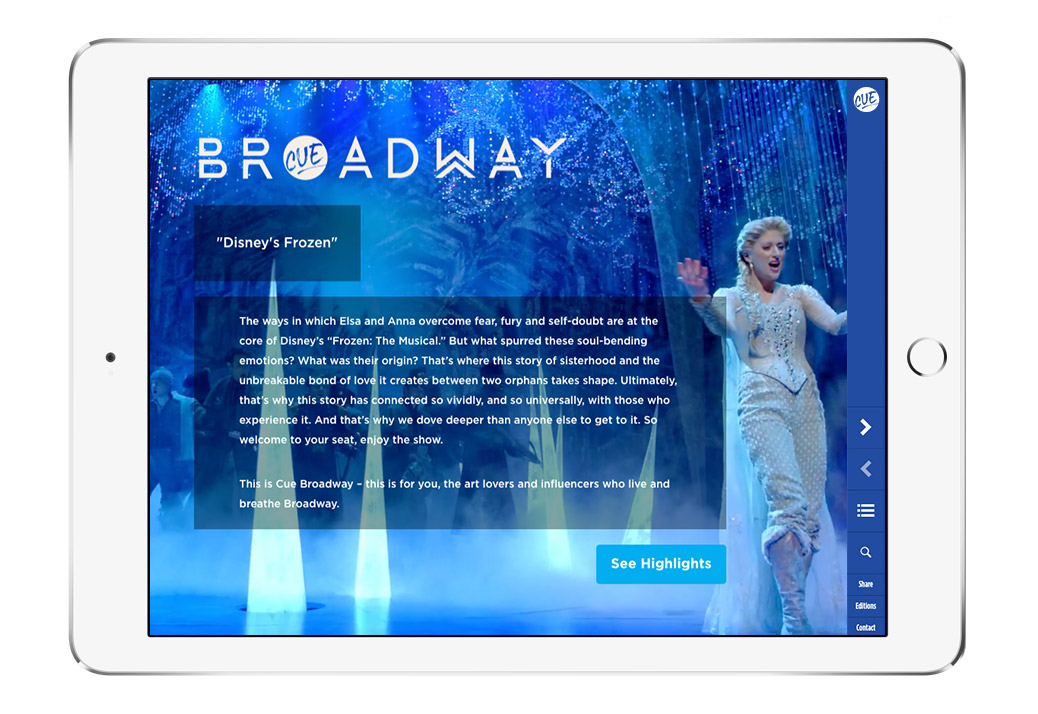 Execution
It all started with a name. In an effort to make it known that this magazine encompasses all that is Broadway, "Cue Broadway" was born. The name itself was actionable and almost acted as a rally cry. Next, after the logo and masthead were designed, it was decided that each issue would focus on one upcoming Broadway show that was taking the stage by storm. There would be four or five feature articles that would take a look into different aspects of the show – the writers, the actors, the stage designers, etc. In addition to those articles, the magazine would also contain a restaurant guide, as well as a map and guide for other shows currently on Broadway. And to accompany those rich storylines, and to embody the sophistication the client desired, the pages of Cue Broadway were filled with engaging photography and original artwork – all of which could (and would) be altered to fit the particular Broadway show being featured.
Issue 1 – The Band's Visit
The first issue focused on the 10-time Tony Award-winning Broadway sensation The Band's Visit. We interviewed and photographed the actors, composer, director and more. In the beginning of 2018, Cue Broadway Issue 1 was made available in both print and digital mediums and was distributed to 1,000 industry influencers, theaters and affluent Broadway theater goers. The digital version became available on CueBroadway.com, enhanced with lively videos and music playlists. It was shared via social channels and employed a social and PR strategy backing it along the way.
Issue 2 – Disney's Frozen: The Musical
The second issue of Cue Broadway revolved around the movie-turned-stage-masterpiece Disney's Frozen: The Musical. Much like Issue 1, it contained insights from many of the usual and unusual suspects (including a scientist dubbed "Snowflake Man"). Thanks to heavy collaboration with Disney Theatrical, we gained access to cast members, costume and set designers, dynamic songwriting duo Robert Lopez and Kristen Anderson-Lopez, and much more. The publication went to print and hit the Cue Broadway site in June 2018.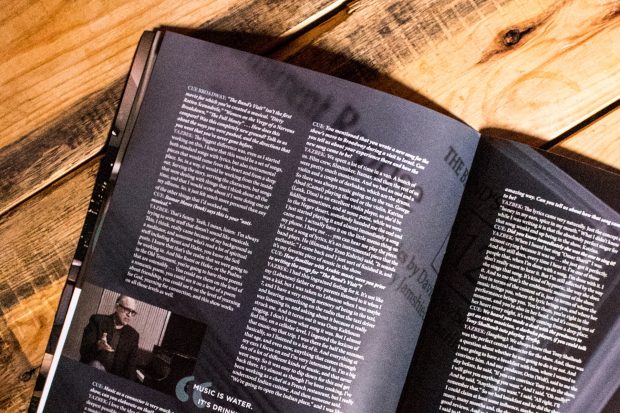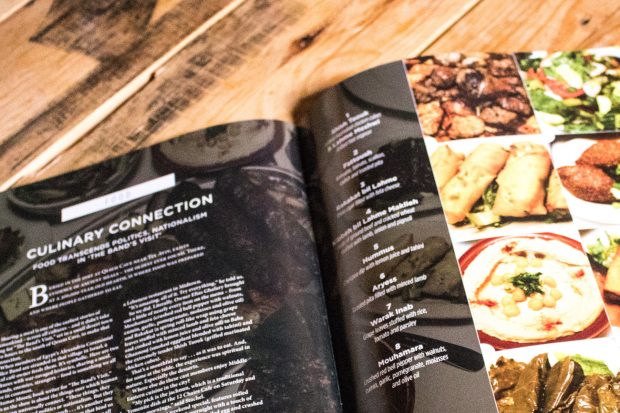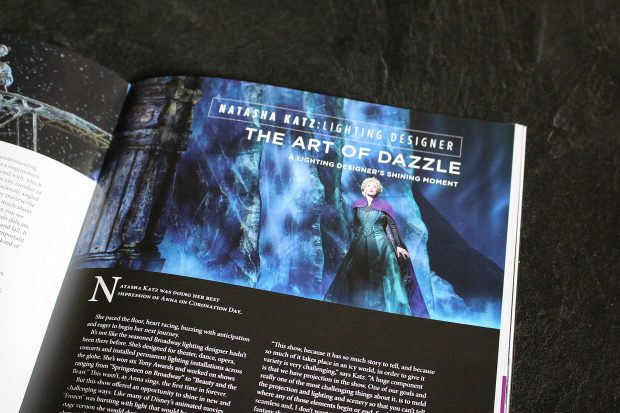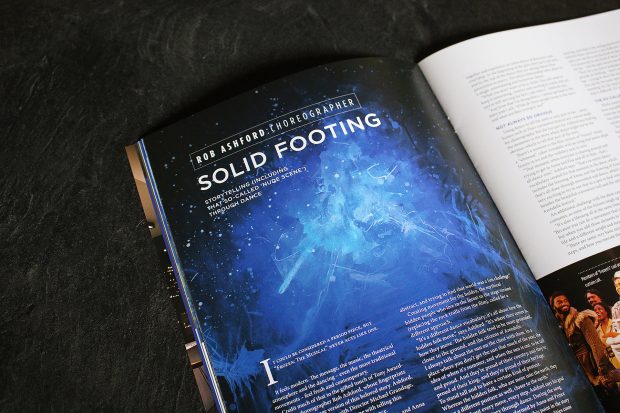 ---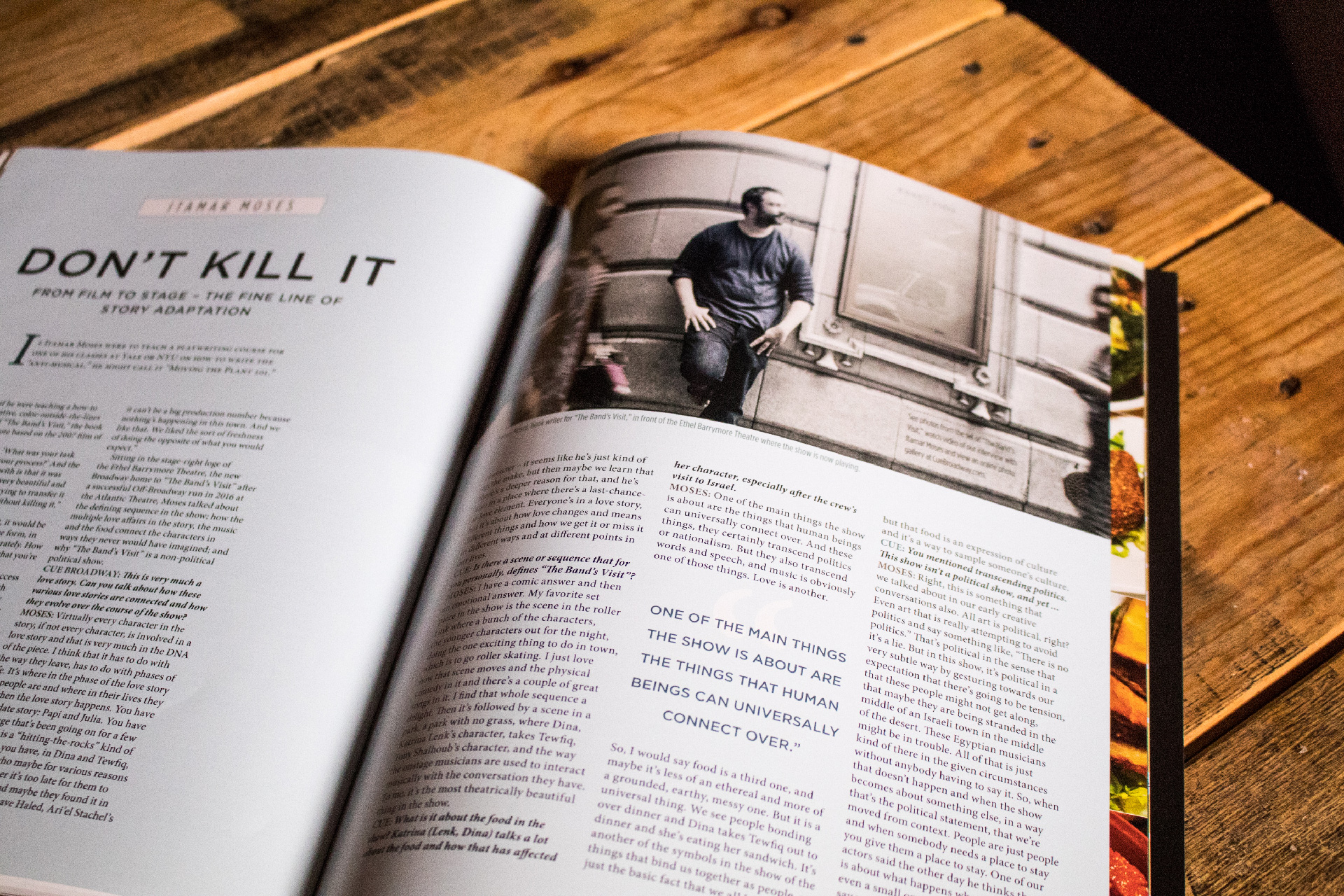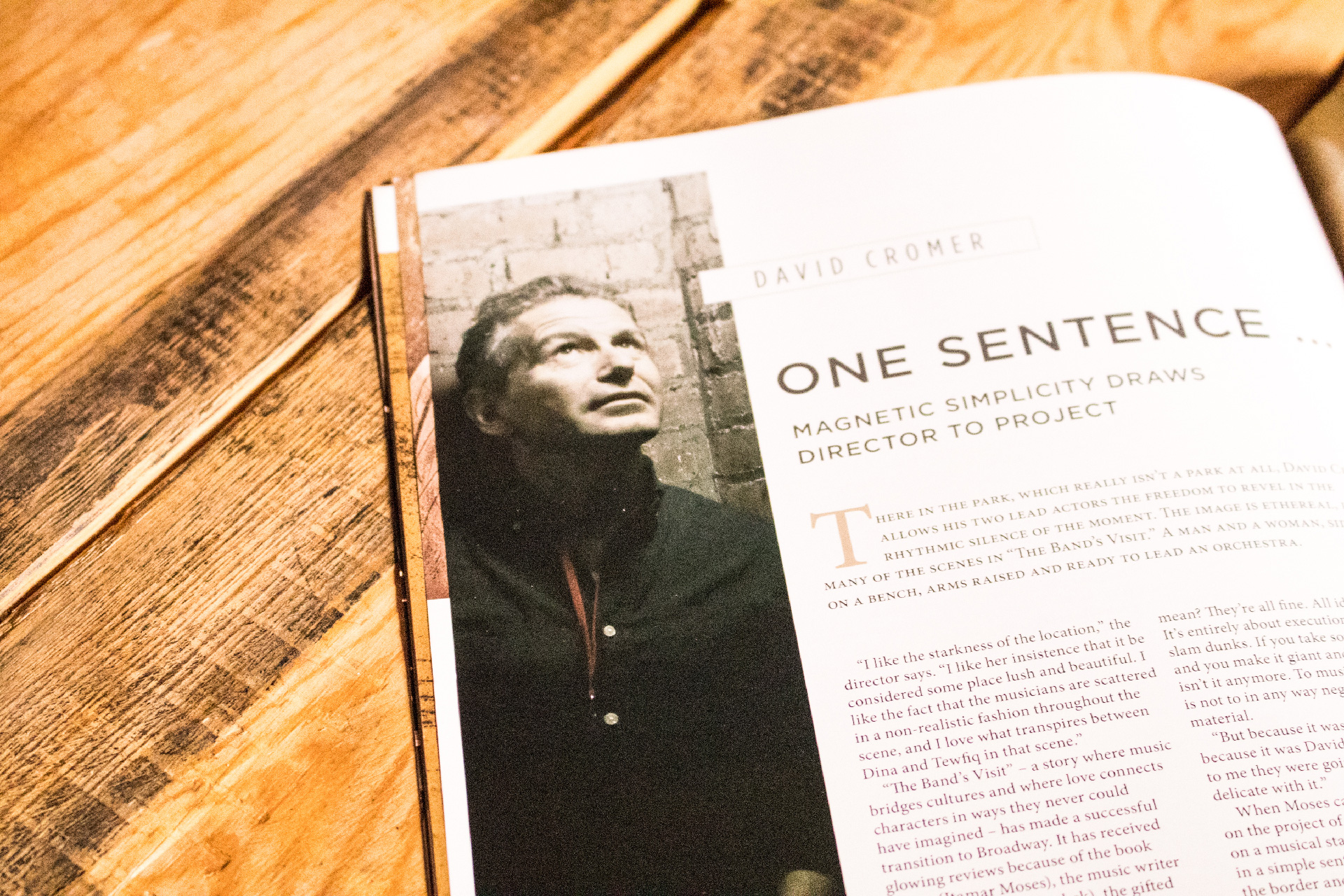 Results
After Issue 1 was released, the digital version of the magazine had more than 4,400 page views, with an average visit time of more than five minutes during peak engagement periods, which is twice the industry standard for online publications. After Issue 2 was released (just six months after Cue Broadway debuted) page views skyrocketed to nearly 27,000, and average visit time was more than seven minutes during peak engagement periods – more than triple the industry standard. And since the drop of the Frozen issue, multiple Broadway productions have reached out, inquiring about being featured in future issues.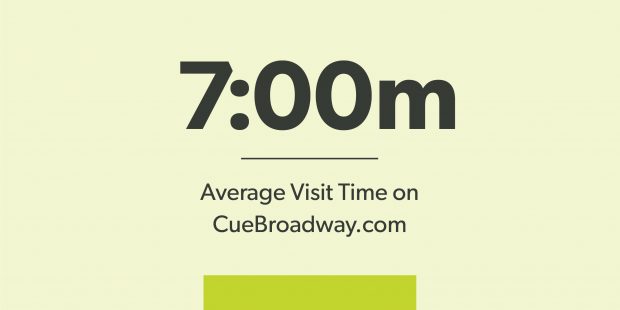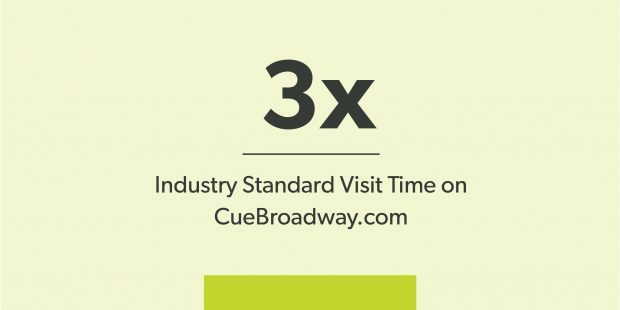 ---
---