Because of the way the NCAA College World Series is set up as a double elimination, the event is fairly fluid and many fans come into Omaha without tickets hoping to get them on site.  As teams are e

liminated, tickets are turned in and then available for sale.  Further, out-of-town fans are not familiar with Omaha and don't know where to turn for information.  To make the event as simple as possible for fans to attend, we executed a simple opt-in SMS program.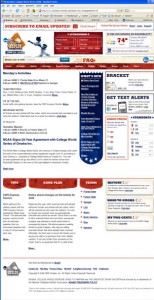 Through a short code or double opt-in web signup, attendees can receive text message updates and alerts delivered to their cell phones.  Updates include team practice schedules open to the public, game schedule changes (such as announcements of tie-breaker game times and rain delays) as well as ticket availability information and game results.  This program enables us to get information out immediately.  For example, when tie-breaker games are required, we are able to get information out about the schedule and how to purchase tickets within 5 minutes of the end of the prior game.
The 2008 attendance broke new records on many fronts — ticket sales, game plays and weather delays.  And fan response to the alerts was extremely positive and we received messages that requested that we continue the program next year and broaden its content.  Additionally, many fans took the time to write email thank you messages telling us that the quick notice helped them get the tickets they wanted.