Borsheims, a jewelry store known for its extensive selection, exemplary customer service and exceptional "Borsheims price," was looking for a way to capitalize on the excitement in Omaha during the College World Series timeframe. The idea of Diamond Days was born.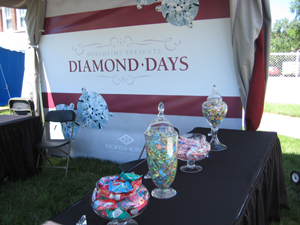 Diamond Days main objectives were to sell diamond stud earrings, launch a trade-up program, and obtain lead information from new customers. A tent was designed that replicated the famous Borsheims Box with a burgundy bow, and with Bozell's help, a prime location was secured across the street from the stadium for the duration of the Series.
Borsheims held a raffle at the tent to capture leads for potential customers. Sunscreen packets were handed out with the message "Don't forget your ears." Other materials included a full page ad in the Omaha World Herald, online, in-store, radio, and a 30,000 piece direct mail campaign.
During the timeframe of this campaign, diamond stud earring sales increased 68% over prior year. Of the number of earrings sold, 48% were upgrades. Over 1600 potential customer names were collected. The promotion was so successful that Borsheims ran a similar promotion during their 2008 Holiday campaign and expanded the offer from diamond studs to all diamond jewelry.