Mooney Airplane Company planned to unveil two new models of airplanes at the Oshkosh Air Show and wanted to get invitations into the hands of select people who would be prime candidates to test fly the new models at the show.


Through analysis and modeling, Bozell SmarTargeting culled an email database of hot prospects that met specific selection criteria from within the overall Mooney prospect database.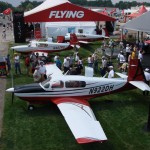 After identifying the prospects we created and sent an exclusive email notice containing a link that clicked through to a flash-based experiential microsite evite.  The microsite combined visual sizzle with the meat of the offer – which was the opportunity to set up a test flight at the show.
The open rate exceeded the industry average by a factor of 3 and a 66% click-through rate was significantly above national averages.