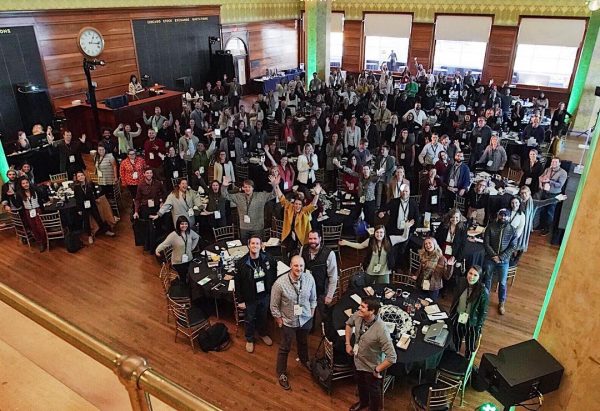 Okay, so you've heard us talk about Sprout Social before. In case you don't know, Sprout Social is the social media management software we use at Bozell to streamline and manage social media for our clients. We're one of their founding agency partners, which means we get (and therefore, our clients get) a special access to this side of the platform. So, in addition to scheduling, evaluating social analytics, listening and managing day-to-day engagement, we receive exclusive pricing, customer service and first access to new features.
We know, we're obsessed. But we have to recap our latest experience with Sprout: the 2018 Agency Partner Summit. We visited Sprout HQ in Chicago for two days – along with 200 other agency partners from 120 agencies from around the globe.
At the summit, we learned about how to leverage new social tactics for our clients and about up-and-coming social media trends from an incredible lineup of successful and empowered speakers (all women, BTW). We were also able to lead discussions with other agencies, meet the Sprout team IRL and receive runner up for the Social Media Campaign of the Year award (here's to you, NCAA Men's College World Series!).
Here's a recap of some of our favorite speakers, insights and takeaways from the summit:
Sprout Social CMO, Jamie Gilpin, stressed the importance of cultivating a genuine and transparent connection with your brand's audience on social. Where brands used to focus on provoking conversation is now shifting to something more meaningful. No longer is social just another avenue for advertising.
Keep your ideal customer engaged on social throughout the entire process: awareness -> consideration -> retention -> advocacy.
Twitter Data Solutions Head of Marketing, Diana Helander, advised agencies to leverage data found on social to identify a brand's key audience, drive strategy and then effectively tap into and engage that audience. Understand that each social platform serves a different purpose and audience for your brand.
Angie O'Dowd, Global Partner Marketing at HubSpot, reminded us that when our marketing and sales objectives aren't aligned, we're spinning our wheels. Focus on your brand's growth goals and track measurable successes – like qualified leads, opportunities and revenue – frequently.