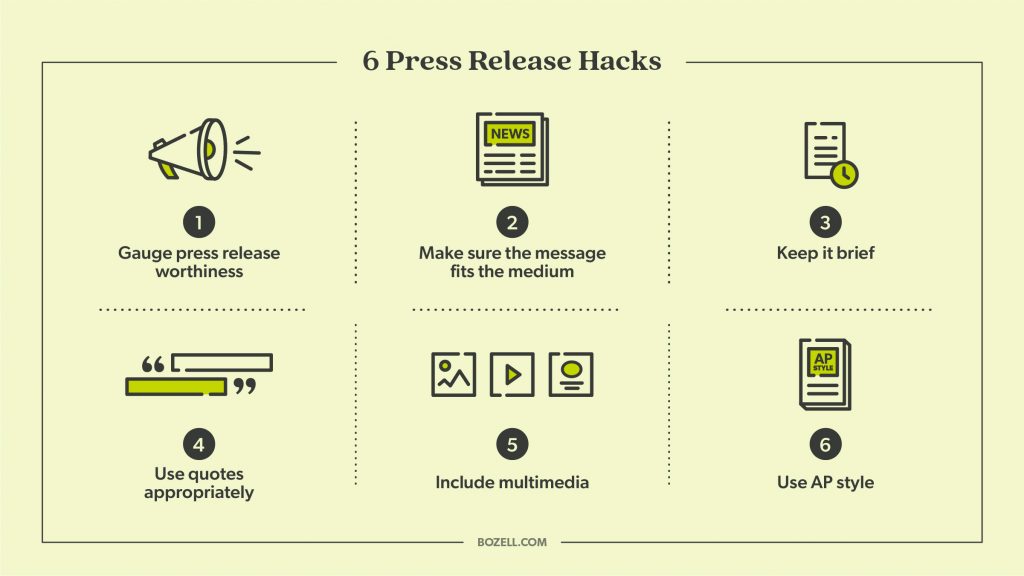 So you want to write a press release. Or maybe you don't, but your boss thinks it's a good idea. No matter. Whether you're announcing a new hire, sharing the news of a donation, or weighing in on an industry-related development, you've come to the right place.
Here's all you need to know (and probably more than you wanted to know) about press releases.
The Press Release: October 28, 1906
Ivy Lee is credited with writing the first press release following a Pennsylvania Railroad train wreck that tragically took the lives of more than 50 people. Rather than wait for the media to overwhelm his client with questions, Lee developed the release in order to share the news proactively with the press. The next day it was printed word-for-word in The New York Times.
Since then, the press release or "news release" has been the primary vehicle for getting information to the media. Press releases spell out the who, what, when, where, why, and how of a development so the media can easily share the news with a wider audience. They're used to generate coverage of a business or organization, to proactively communicate when information needs to be shared with the public, or to offer an entity's or individual's perspective on a matter that will be covered by the press.
Not everyone is a fan of the press release. With the advent of social media and other digital forms of communication, some, like Alex Aiken, have opted to ditch the practice altogether. In the fall of 2013, at a public relations conference, Aiken, the "Government Comms Chief" in the U.K., declared "the press release is dead."
On the other side of the Atlantic, Elon Musk probably agrees. Last year, he dissolved his PR department, opting to rely mostly on Twitter for his communications to the press. Here's how that's going:

Now if you have 57 million Twitter followers, a strategy like Elon's might make sense. But for the rest of us, the press release can still be relevant. I'm not the only one who thinks so.
According to Cision's 2021 State of the Media Report, 78% of media say they want press releases from brands and organizations. Why? Because press releases accomplish something that a tweet or blog post often cannot. Press releases are specific to the media and their audiences. They provide more context than a social media post but less than an eBook. The format requires you to home in on the most pertinent details of a development and package it up in a way that someone else can easily carry your story or your statement further.
Here are just a few examples of coverage Bozell has generated using press releases.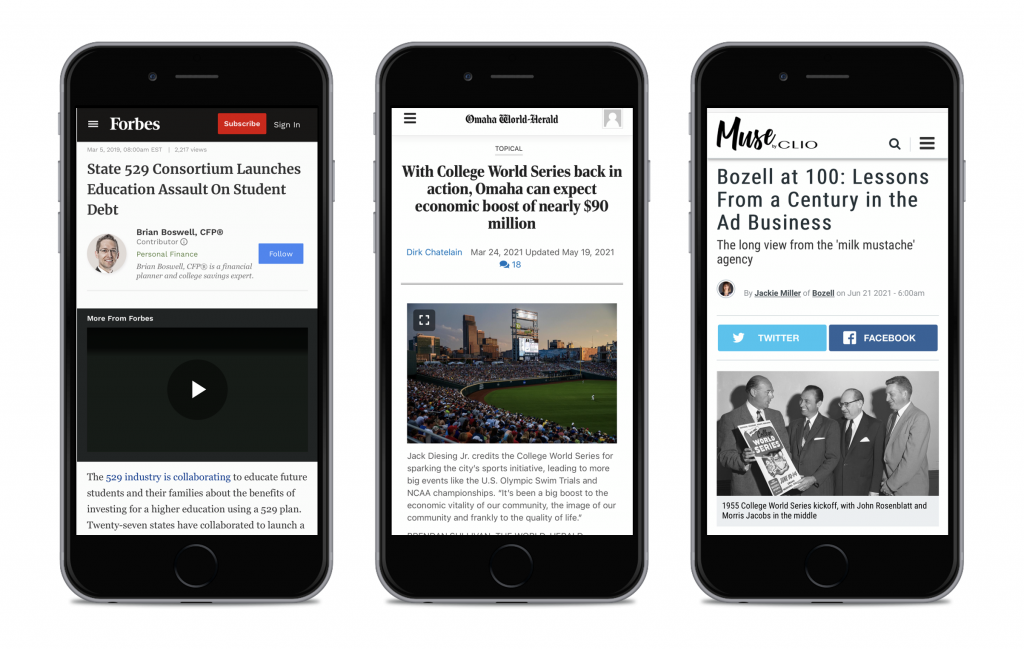 At Bozell, we use press releases to reach all types: B2B and B2C; national and local; broadcast, print, and online. It's an effective tool for every media audience.
Press Release Writing 101
As with writing anything, the hardest part is starting. The good news is that even though there is a particular format and set of rules for writing press releases, it's a fairly straightforward kind of writing that will just take a little practice.
Here are the basic components of a standard press release: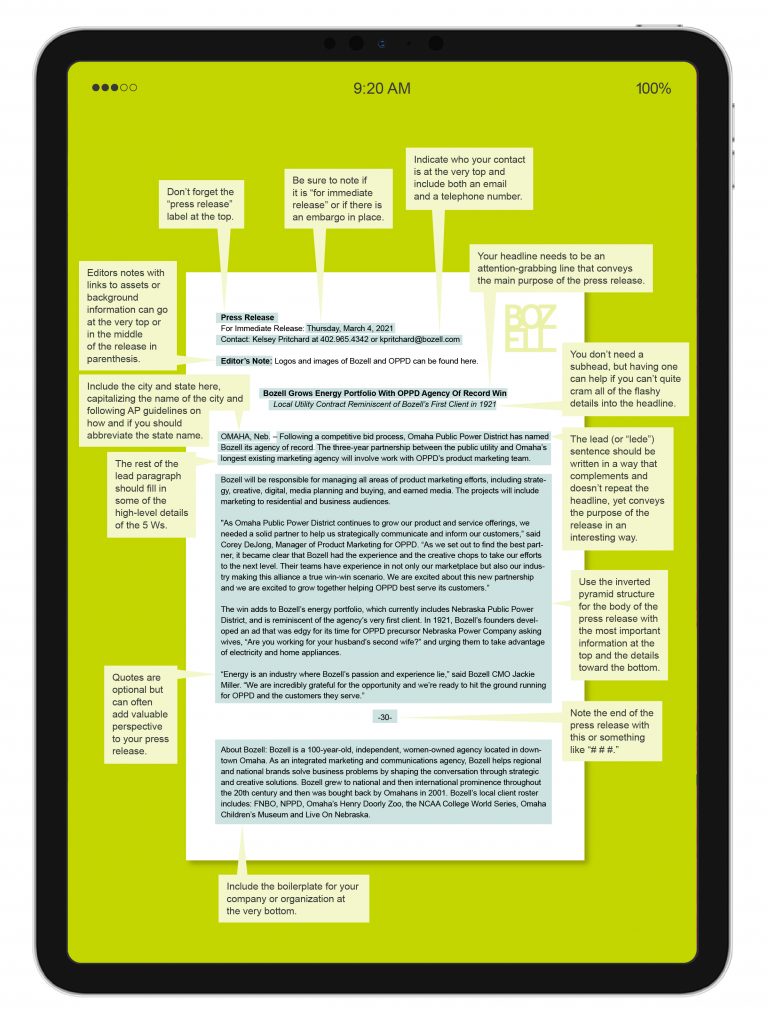 Press Release Hacks
Working for a governor in the first seven years of my career, one of my responsibilities was to oversee the communications of state agencies. I looked at anywhere from 5 to 50 press releases in a week – and sometimes more when agencies would customize news releases for each community.
These are the tips I shared most frequently with the Public Information Officers who wrote those press releases. Whether you're writing for a government agency, small business, large corporation, or non-profit, incorporating these practices will make your press releases more effective and help you generate coverage.
Gauge press release worthiness. The press release should be used sparingly and only for the most notable developments that may appeal to the media and your audience. Ideally, it's reserved for things that are truly "newsworthy" and have a standing chance at being picked up by the press. However, there can be value in writing a press release with the sole intention of it living on a website. Visitors can easily browse through recent developments in your press release archives and having this content can help with SEO.

The press release sample in the segment above, for instance, was one we didn't send to press because we were going to issue another press release in the coming days. Yet, we still saw the value in documenting a new client win on our website.


Make sure the message fits the medium. In the marketing world, we often refer to PR as "earned media." The press isn't being paid to cover your story. You have to win their interest and that takes some extra effort and intentional messaging. Your press release shouldn't sound like an ad or even a blog post. Using neutral, non-salesy language throughout your press release so it reads like an article can help you achieve more pickup.


Keep it brief. Brevity is key for time-strapped reporters. Aim for 400 words or less and make every word count. Each paragraph, sentence, and word should add value. Nothing should be repetitive.


Use quotes appropriately. Quotes are not required but they can help add perspective and context to a press release. While using impartial language throughout is advised, the quotes are your opportunity to add a thought leader's opinion or expertise. The quotes should bring color and personality and not be duplicative of other information in the press release.

It's also wise to put a limit on the length of the quotes and the number of people quoted. The press will often use one sentence or just a few words of a quote in a story. You have more control over which words they pick if you include fewer options.


Include multimedia. Did I mention reporters are busy? It used to be they just had to worry about filing their story for print the next morning or to make the 10 o'clock broadcast. Now they have to think about sharing news in the digital realm as well: getting clicks, live-tweeting, and video for the website. Because newsrooms have shrunk, reporters are often the ones running the camera and taking the photos now as well.

Any multimedia assets you can provide to help the media tell your story will save them time and help your chances of getting a "yes." Include infographics, photos, video, audio, maps, renderings, b-roll, headshots, and logos.


Use AP style. The media adhere to something called AP style in all of their writings. AP style includes a number of rules on punctuation, abbreviation, and PC vernacular – the most infamous rule being there is generally no use of the Oxford Comma. Invest in a $25 AP Stylebook or have someone who is familiar with AP style edit your press release before it's distributed.
While some PR pros don't adhere to AP style strictly, it can be important to demonstrate to the press that you speak their language. It also puts your news in a format that an editor can literally print word-for-word, just as the New York Times did with the very first press release in 1906.
You don't need a communications degree or "APR" next to your name to write an effective press release. With a little willingness to write and rewrite until you get it right, you can produce your own news releases that earn pickup and reach a broader audience.
Not able to invest the time into writing press releases or developing strategies to secure coverage for your brand? Bozell's PR team can help. Drop us a line here or DM us on LinkedIn, Twitter, Facebook, or Instagram.