While NCAA.com and other media sites do a tremendous job of covering the game action, the role of the College World Series site (www.cwsomaha.com) is to provide deeper information about event logistics, tickets and activities before and during the Series to those who plan to attend.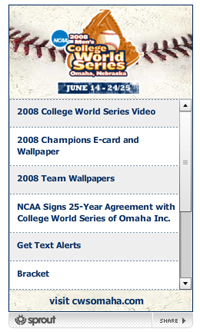 Filled with ticket and event schedule information, an FAQ section, parking and shuttle data, photo galleries, trivia polls, e-cards as well as other things to do in Omaha during the Series, the site becomes a primary resource for visitors and fans. RSS feeds, social bookmarking and widgets enable fans to receive and sort information in a variety of different ways. Additionally, viewers are able to subscribe to mobile text message alerts to keep up-to-date while in town.
During the 2008 series, there were over 100,000 visits per day from 72 countries – ranking the site among the top 1% of all active web sites on the net in terms of traffic.  The site holds the number one ranked position on ALL major search engines on the key search term College World Series.