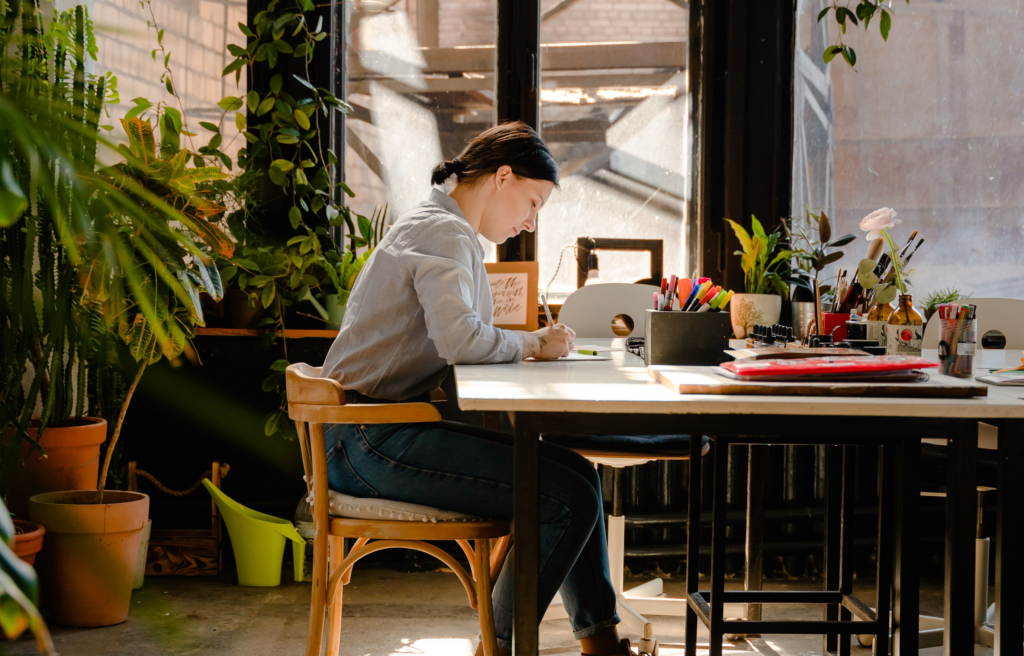 Fair trade. Eco-friendly. Carbon neutral. Sustainability claims are front and center in products and services across nearly every industry. And it shows: It's a market worth more than $14 trillion a year. So how can you successfully frame up eco-minded copy in your marketing, while still standing out from the pack? Here are five easy tips to help you craft an effective sustainability message, no matter the industry.
1. Don't use meaningless buzzwords.
Look, we get it. Terms like "circular economy" are fun to say and make your brand sound smart. But if a particular term doesn't tie into your industry or brand, they're just noise. Talk about what your brand is doing that's sustainable, how you're doing it, and why it's important to your organization. Something like: "We care about our state's natural resources. That's why we're partnering with local farms to source fresh ingredients and supporting farmers that share our values of protecting soil health and practicing water conservation."
2. Put sustainability at the forefront.
A half-baked sustainability strategy will just make your brand look bad. And consumers will catch on. For example, in 2017, Valspar made changes to its paints to remove certain chemicals in an effort to be more sustainable. But that alteration caused its products to emit a cat-urine odor when it dried. Rather than try to embed sustainability after the fact, develop your product or service in tandem with your company's existing sustainability goals.
3. Show, don't tell.
Don't greenwash. Greenwashing is when a company tries to make themselves sound sustainable, in an effort to mislead consumers into thinking they actually are. Instead, quantify your environmental claims, and provide data to back them up. How many pounds of plastic did you remove from your packaging? How many trees were planted to offset carbon emissions? Use infographics to show the impact your business is making.
4. Be emotional.
Emotion can be a powerful driver. If you want to get your audience's attention and spur them to action, speak to what they care about. Show them how you're protecting the environment for their children. Give them a personal reason to care about your sustainability efforts. Remember that video of the turtle with a plastic straw stuck in its nose? It stirred viewers' emotions. After going viral, the video spurred a larger conversation about single-use plastics and motivated companies like Starbucks to eliminate them from its menu.
5. Focus on the benefits.
It's tempting to make your sustainability messaging all about what your brand has done. But how does that connect with your audience? Instead, focus on how the actions benefit your customer. For example, your company's new smart light bulb might be better for the environment because it's more energy efficient, but your messaging should hone in on how it saves customers money because it lasts 10x longer than a traditional bulb and lowers utility bills. In short: communicate your brand's benefits first, then back them up with sustainability claims that support your core message.
In Closing: Sustainability Isn't Going Anywhere
With sustainability growing year over year, it's wise to start planning out an effective strategy that's custom-made for your business. Get a jump on crafting top-notch eco-minded copy that will leverage your existing value propositions, grow your business and connect with audiences. Still feeling a little "green" about creating the right sustainability messaging? Drop us a line. We're always happy to help.

Bozell is a full-service, women-owned advertising and marketing agency whose capabilities stretch across all disciplines: creative, digital, paid media, PR, social and content. Everything we do is rooted in strategy, and we always start with a full understanding of your business objectives so we can meet or exceed your goals. For more information, see recent examples of our work and listen to the latest episode of our podcast.