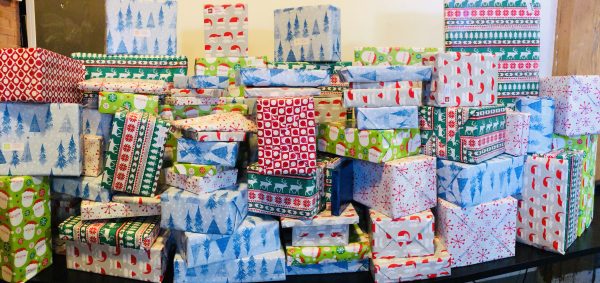 30 years ago. 1988. It was the year that Bozell began "adopting a family" during the holidays – meaning we provide the holiday gifts for a family in need.
We mention it a lot, but our founder Morris Jacobs always said, "We must pay rent for the space we occupy on this earth." The reason we say it so frequently is because it is one of the values that makes Bozell … Bozell. It is engrained in our culture. As quoted on medium.com, CEO Kim Mickelsen said, "We take our company philosophy to give back to your community seriously." In fact, the emphasis on this ethos is one of the main reasons I have been at Bozell for more than a dozen years. It makes me proud to work for a company that cares about people.
Of all the pro-bono work and all the charitable events that we participate in every year (and trust me when I say that it's a lot), adopting a family during the holidays is by far my favorite thing that Bozell does.
I think it has to do with the fact that I love this time of year so much. I have been privileged in my life to have many happy holiday memories – as a kid and as an adult. And adopting a family gives us a chance to help spread some of that cheer in a very real and tangible way.
No, we don't know the family's story. Sure, the family is vetted for actual need – by schools, churches, shelters and other nonprofits. But we don't know how they got to a place where they are asking for help. And I don't think it matters. What we do know is that without our help, this family wouldn't have a Christmas. A three-year-old wouldn't open a gift from Santa on December 25. A nine-year-old would go back to school after break and hear all of her friends talk about their new clothes and toys, and she would have nothing to show. And that isn't fair. I know the holidays shouldn't be about things, but everyone (especially kids) deserves happy memories at the holidays – and that is really what these gifts are providing.
Now, I am sure that when Bozell said "yes" to adopting a family during the 1988 holidays, they had no idea what they were starting. That 30 years later, we would be carrying on the tradition. That decades later, we have provided thousands of holiday gifts to hundreds of people. But I am so glad they did.