June 13th. A day that will live in social media infamy. It's the day Facebook announced they would allow vanity URLs to fan pages. It's also the same day tens of thousands of companies flocked to the world's number one social media site. From Fortune 500 companies to mom-and-pop shops, Facebook is being used in an infinite amount of ways to promote businesses. From holding contests, distributing coupons, crowdsourcing ideas and 
keeping in touch with "fans", Facebook 
has become one of the biggest growing 
tools for marketers.
But when marketers take hold of a new medium like Facebook, they also have to 
be ready to roll with any changes within that medium. This might even mean completely rethinking their social media strategy.

In fact, just recently, Facebook has released a number of game-changing revisions and upgrades to their site. While Twitter and the blogosphere are all buzzing with the new Facebook privacy policies, we thought we'd share another recent change that might have a larger impact on businesses.
Now, any business seeking to hold a competition, sweepstakes, contest or promotion on Facebook must have written permission from Facebook:

Section 3. Administering a Promotion through the Facebook Platform

You may not administer any promotion through Facebook, except that you may administer a promotion through the Facebook Platform with our prior written approval. Such written approval may 
be obtained only through an account 
representative at Facebook.
Let us help break-down 
the fine print:
In order to receive written permission, you need to work with a Facebook account rep.
To contact a rep, you have to fill out the Facebook Contact Us form. The form asks for your estimated budget with the lowest amount available being <$10,000. 
(Translation, Facebook is looking for some 
serious cash from companies who want 
to hold contests.)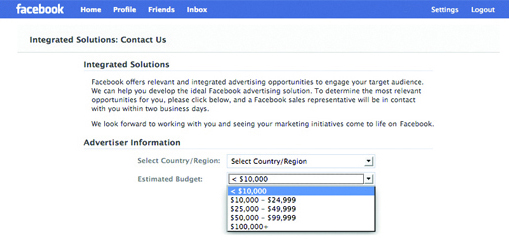 Facebook is quickly getting the face of Cash Cow. And that's an ugly face for companies seeking to rapidly grow their Facebook groups or fans with giveaways. One area that Facebook's new promotion guidelines didn't cover is third-party services such as applications and tools using the Facebook API. Look for big growth in those areas in 2010.
So if you are thinking about holding a contest on a social networking site, might we suggest another powerful social media tool that is still free, Twitter.