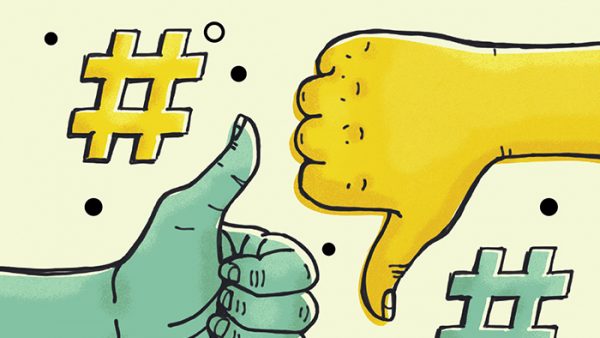 Today, there are hardly any posts on social media that don't carry a hashtag. And like a lot of content creators, you may be asking, are they even relevant anymore? Our answer is … #YES. 
Hashtags were first used in 2007 when a web marketing specialist walked into Twitter's offices with an idea that the company should start using the pound symbol to group related Tweets together. Who knew that just one character, 13 years ago, could spark a global movement today?
Simply put, hashtags are topics. But they're important because they highlight trending conversations. Funny conversations. Life-changing conversations. Incorporating hashtags in your social media content is arguably more relevant now than ever before.
In 2013, #BlackLivesMatter was created to track the conversation about the George Zimmerman trial. Fast forward to 2020, the phrase "Black Lives Matter" is being used now as way more than just a hashtag. It's a cry for change. A social stance. Protestors write it on their signs and shout it as they march. Globally, it's being used to show solidarity.
If you're posting only #ThrowbackThursdays on Twitter, your brand can do a lot more.
The point is, hashtags can help your content get discovered. Research shows that Instagram posts containing a single hashtag received 70% more engagement than posts without any. It may take extra time to find the right hashtags, but the results are worth the effort.
There are many types of marketing strategies for hashtags, but here are three important ones:
Campaign: These are created to market your business or services. #ShareACoke
Trending: If a topic is popular, then the hashtag created around it will trend and be easily searchable. #MotivationMonday
Content: These are specifically to go along with the content you are posting. #DogsOfInstagram
Dos & Don'ts
DO test and retest hashtags.


Try using different hashtags and analyzing them, so you can identify the ones that generate the most attention and engagement with your brand.

DO use the right amount of hashtags.


Using the right number of hashtags can be confusing, but it really boils down to what social media platform you are on. Here is a list of the recommended number of hashtags to use based on platform:

Twitter: 1–2

Instagram: 9–15

Facebook:

1–2

LinkedIn:

1–2

DO promote your hashtag across multiple platforms.
Your hashtag needs to be seen all over to generate curiosity. The more people become familiar with it, the more they will share it on their social platforms. Whether it's in the news, used in your press releases or on social media, if people see it, they'll talk about it.

DON'T make your hashtag too long.


Hashtags are meant to be concise, easy to read and shareable. However, avoid shortening too much or turning it into an acronym. That'll just confuse people and reduce the usage.

DON'T use more than one campaign hashtag.


Users on social media will most likely use your hashtag with others associated with your campaign, so try not to include another trending hashtag in addition to your brand just to get more impressions. This comes off as tacky and might make your campaign get lost in a different one.
So, there you have it. Hashtags are far from disappearing from the social media dimension. Don't underestimate these tiny digital characters. When used strategically, they can be more powerful now than ever.