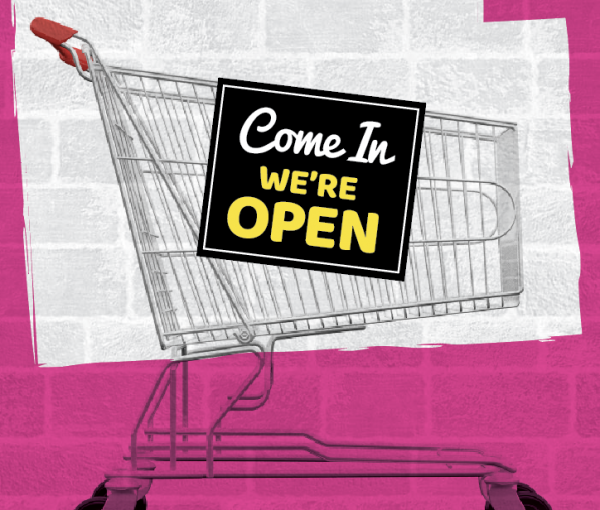 Everyone in the retail world is looking to create the perfect business model. For years, the only choice was brick-and-mortar shopping, and then along came e-commerce. That's when "retail" became "e-tail."
The most aggressive of the e-tailers (i.e., Amazon) would have us believe that the old-fashioned way of shopping is dying out, but according to a 2017 U.S. Census report, more than 90 percent of purchases are still made through in-store transactions.
What is true is that the advent of e-commerce retail shopping has put a serious dent in the bottom line of traditional brick-and-mortar stores. Regardless of the purported economic upturn, brick-and-mortar stores are still closing at an alarming rate.
To a large extent, those closings can be blamed on traditional retailers. They got greedy. They weren't happy just to fill the malls; they had to cram them to overflowing, creating claustrophobic crowds of frustrated and angry shoppers. That's when the e-commerce folks swooped in to save us from this nightmare.

Convenience became the most important piece of the puzzle. Sure, we gave up on seeing products in person, but at least we didn't have to fight the hordes and stand in those mind-numbing lines. Admittedly, there were challenges to e-commerce, but our time was once again our own – we were in control.
But now, we're starting to hear about e-commerce companies opening their own stores in an effort to generate a boost in brand awareness and experience – major e-tailers, like Zappos, Birchbox and Warby Parker. Even Amazon, having been cited in RetailDive as "the original disrupter of brick-and-mortar retail," has dipped its toes into the brick-and-mortar pool – first with book stores and now with an attempt to purchase Whole Foods.
But what we know of brick-and-mortar is evolving. The old way of retailing, which appears to be breathing its last breath, is being reborn and transformed by e-tailers that are breathing new life into the traditional business model.
For example, men's clothing e-tailers are providing brick-and-mortar places to try on garments that are then shipped to their home from a central warehouse. The Harry's razor folks opened their first brick-and-mortar shop – a barber shop in NYC. Many companies (i.e., Great Brands, Inc.) are experimenting with short term leases. And pop-up shops are giving e-tailers a chance to jump into brick-and-mortar without making a major, long-term financial commitment.
Industry pundits remind us that starting an e-tail brand now is more difficult than ever. With the proliferation of purchasing choices, there is little chance to stand out from the crowd if your brand is not already firmly planted in the mind of your public. A physical presence and experience is often the boost that's needed.

Not every e-commerce business can open a brick-and-mortar and just magically see success. Not even the king of all online kings, Amazon.
According to the Codex Group, Amazon accounts for nearly half of all print and electronic book sales in the U.S. So it seemed promising when they planned to open book stores in multiple cities across the U.S. But on May 26, 2017, when Amazon opened an Amazon Books in New York City, the online tycoon was met with some not-so-great reviews. To give you an idea, here's one by The New York Post writer Raquel Laneri:
"New Amazon Bookstore Looks Like Airport Desperation Pit-Stop," headline reads.
"Amazon may have finally killed the bookstore once and for all—by opening one."
In an effort to bring the online shopping experience to a physical store, Amazon seems to have overshot it. Customers were not fans of the fact that the store did not take cash, had no listed prices and made the purchasing process difficult with scattered kiosks. All in all, a swing and a miss.
Moral of the story is the consumer is always going to dictate what will work and what won't. And just because you're successful online, doesn't mean you're guaranteed success in the world of brick-and-mortar. Get to know your customers and try to understand what they want – not what you think they want.