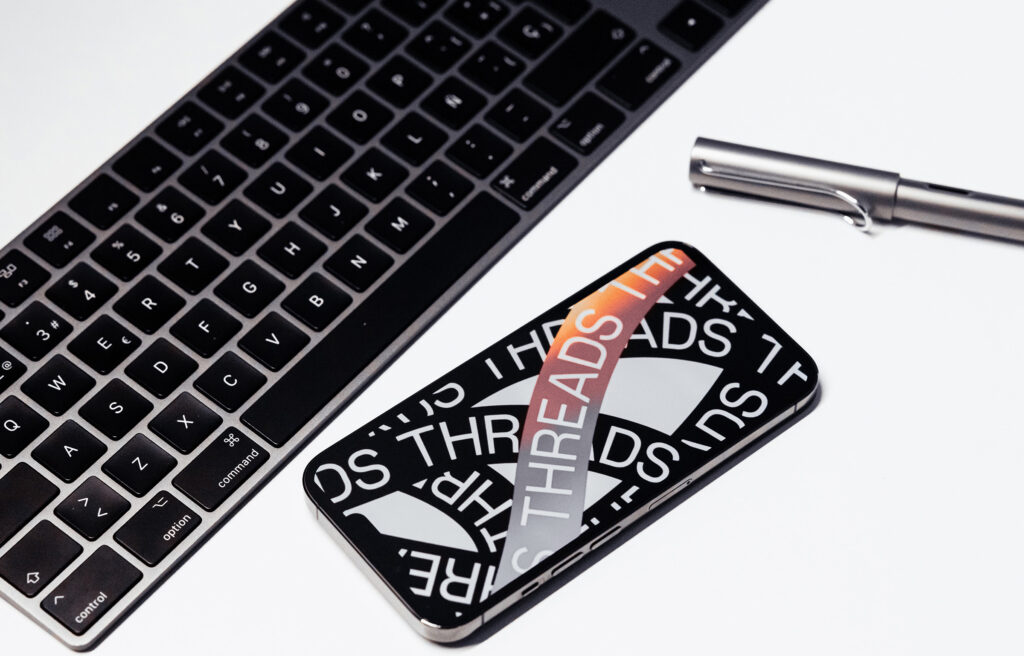 Imagine … a social media platform that has text-based posts and uses hashtags. A timeline feed where users can collaborate and connect. A space for doom-scrollers and content creators alike.
You're thinking Twitter … right? WRONG. I'm talking about Meta's new platform Threads.
To social media users (content creators, strategists and even consumers), Threads' emergence in early July 2023 seemed more like a passive-aggressive hit at Twitter (now X). Even the style of posts (text-based, connected as threads) seems like nothing short of a jab at their rival platform X.
But despite the hubbub around their competition with X, Meta created Threads to do what Instagram doesn't do well.
According to Meta's website, Threads was developed by the Instagram team to create a space compatible with the "open, interoperable web," enabling "positive and productive conversations" that revolutionize the way we "connect, converse and collaborate" via social media.
Like I said … pretty much what Instagram is lacking with an extra Web3-related twist.
If you're a marketing professional, a scroller on social media, or even just use Google a couple of times per day, you probably heard about Threads when it launched. Here's the gist:
Big launch, bigger growth
With over two million sign-ups within the first two hours, and nearly 30 million by the next morning (SimilarWeb), Threads was off to a great start. The new Meta app quickly became the fastest-growing social media platform in history, with over 100 million sign-ups within the first week (Forbes). If the app did indeed aim to capture some of X's users, it certainly made a dent. Two short days after it was released, Threads traffic already amounted to an estimated 45% of X's global site traffic (SimilarWeb).
But then things slowed down …
After just three weeks as an app on phone home screens, daily active user count declined at least 82% (CNN Business), with an estimated eight million active users remaining on the app. Eight million is a mere fraction of the 100 million users that signed up just weeks before. But …
Threads made user-requested adjustments.
On August 9, 2023, Threads announced a massive addition of changes aimed at improving user retention. Users can now:
Share threads to Instagram stories
Use mention buttons to easily tag other users
Edit the automatically generated alt-text description of photos and videos before posting
View their own liked posts in app settings
Sort followers by latest or earliest first
Scroll on the For You or the Following (now chronological) timeline feeds
Then on August 24, 2023, Threads released the desktop version of the application.
And while all these changes are … for lack of a better word … basic, these changes are steps in the right direction, especially for user experience.
But is it enough?
While Meta is clearly making an intentional effort to elevate the user experience of Threads, as of this publishing, it is still lacking basic features that other social media apps provide like:
Once a Threads account is created (er, connected with their Instagram account), it cannot be deleted without deleting the connected Instagram account too.
No post-scheduling capabilities, which affect advertisers and content creators alike.
No advertising capabilities / monetization.
No reporting features.
Nonetheless, more changes are on the horizon (as they always are). And if you've made it this far, you're probably done patiently waiting for me to address the bigger question:
Should brands be using Threads right now?
To some people, Threads is just another social media platform. Right now, it's nothing special and it's certainly not a worthy replacement for X. Regardless, whether brands should use/can use Threads effectively, depends. In the end, it comes down to a brand's overall goals, budget, targeting needs and strategy.
In its current state, Threads isn't a social media space designed for (most) brands. Besides the inability to advertise, Threads isn't a stable platform with consistent user numbers, reliable active user minutes, or the reporting features needed to understand whether content (all organic for now) is performing or not. In a nutshell, Threads is not a space tailored for brands because the app:
Has insufficient audience definition, understanding and compatibility.
Is impacted by a learning curve, with new changes coming often and quickly.
May not align with brands that have created a strong, recognizable, visual presence on other platforms.
But this isn't the end.
For now, Threads isn't taking over X. It isn't buzzing with quality interactions or content relevant to companies. And it might not be the strategic choice for (most) brands right now. But one thing is true, this isn't the end for Threads.