Occasionally I find myself spending hours online researching something merely to satisfy my own curiosity sparked by some personal experience or some random reference in an article.
In this case it was a personal aha and what seemed like contradictory trends that sent me down the rabbit hole.
A few days ago I read an article that mentioned the slowing growth of the e-book market. Yesterday, thanks to AmEx's great reporting, I saw how much I personally spent on e-books in 2012 (wow I had no idea and probably never would have looked except that I got an iPad mini for Christmas to replace my well-used Gen 1 iPad). And then tonight I stumbled on a report from Price Waterhouse that projected the overall e-book market in North America will nearly quadruple during the next five years.
Turns out that the "slowing growth" reference being thrown around in articles really meant double digit growth (like 80% YOY) versus four straight years of triple digit growth. I guess it's factual, but growth rates like that would be considered stupendous in other industries. And a slowing is actually to be expected as part of the natural evolution of the e-book market as it matures.
According to a study by Pew Internet, in the past year, the number of those who read e-books increased from 16% of ALL Americans ages 16 and older to 23%. That's a pretty big jump. The move toward e-book reading naturally coincides with an increase in ownership of electronic book reading devices. In all, the number of owners of either a tablet or e-book reading device such as a Kindle or Nook grew from 18% in late 2011 to 33% in late 2012. And you have to wonder how much more that percentage may have jumped after the holiday given the reports of tablets/readers as hot sellers this year.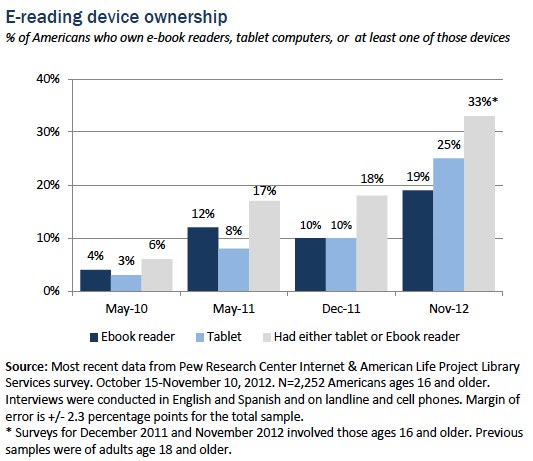 At the same time, the number of those who read printed books in the previous 12 months fell from 72% of the population ages 16 and older to 67%.
By 2016, Pricewaterhouse Coopers has projected that e-books will account for 50% of total spending on consumer books in the U.S. and the total U.S. consumer book market (print + digital) will be worth $21 billion, up from $19.5 billion in 2011.
Obviously the e-book industry is robust. And lucrative. It's impacting the publishing industry in major ways. According to the infographic below the majority of publishers now have at least 50% of their titles in e-book format.
The revenue from e-books sales is growing rapidly and far from chump change. American publishers are now bringing in more revenue from e-books than hardcover books, according to a report published by the Association of American Publishers (AAP). The revenue growth and potential is clearly attracting some attention and scrutiny.
Many people in the book publishing and selling industry have accused Amazon (which controls about 60% of the e-book market) of deeply discounting books to sell them below cost in order to drive other e-book sellers out of business, and then raise prices.
In April, the Department of Justice sued Apple and five book publishers (Simon & Schuster, Hachette, HarperCollins, Penguin, Macmillan) for allegedly colluding to fix e-book prices. In a civil antitrust lawsuit, the Justice Department alleged that CEOs of the publishing companies met regularly to discuss how to respond to the steep discounting of their e-books by Amazon.com. According to the suit, the five publishers and Apple hatched an arrangement that lifted the price of many best-selling e-books from $9.99 to $12.99 or $14.99 and then the publishers banded together to impose that model on Amazon. The DOJ and 15 states said Apple and the publishers cost consumers more than $100 million in the past two years by adding $2 or $3, sometimes as much as $5, to the price of each e-book.
As of Jan 1, 2013 all but Apple have settled. The settlement with Simon & Schuster, Hachette and HarperCollins alone was $69 million. From what I've read, if not settled, Apple will go to trial in June 2013.