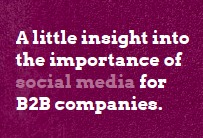 I've spent years developing marketing campaigns for B2B audiences in a variety of industries. In recent years, as social media in particular has become an increasingly important part of the mainstream marketing mix, I've noticed a reluctance on behalf of many B2B marketers to embrace this channel. The reasons tend to circle around the belief stated by a major, international brand marketer I knew, that "our B2B customers aren't on social media."
It's my belief that this reasoning is based more on fear and ignorance than any reality. Go to any B2B industry trade show and watch the people walking the show floor – like everyone else everywhere else, they have their noses stuck in their smartphones. Traveling to see a customer? Checking in at the factory or distribution center? The first thing that happens when that plane hits the ground is everyone – tourists and business people alike – turn on their phones and get connected.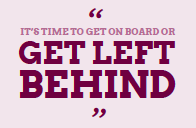 Unlike consumer industries or tech startups, B2B is a slower-moving beast, less subject to trends. But guess what? With apologies to a comment Bill Gates once made, the Internet isn't a fad. Smartphones aren't just for kids. It's time to get on board or get left behind.
One of the challenges is that there is no proven set of tactics to follow. 25 years ago, you ran print ads in relevant trade pubs, maybe did some targeted direct mail (preferably something expensive and flashy), made a nice brochure and called it a day.
It's different today. Businesses trying to connect with businesses have to choose to either wade into the ambiguity and be a leader (and suffer the inherent missteps that come with blazing new trails) or wait for someone else to pave the way and then follow. And while it's intuitive to be cautious, it's more expensive to play catch-up.
Remember this: people are people, whether they are buying for business or buying for personal consumption. The same motivations apply – we make decisions based on emotion and then seek rational support for our actions. And we seek that information the same way – by going online, visiting websites, searching social media for opinions, and gathering all the data we can, from whenever we can. Before that customer ever reaches out to your sales rep, or walks into your distribution center, they've been online – at home, in the car (not while driving, of course), from the TSA line – anywhere and everywhere.
The question is, will you be there when they come looking?