Unless you've been living in a bomb shelter for the last 10 years, you know that the way people are consuming media now is completely different than it was 5 or 10 years ago. Consumers can now select the content and media channels they most prefer using devices across numerous technology platforms day or night. Face it, we rely heavily on technology in order to do most of our daily activities.
The Web is becoming the real-time information center for all interaction and behavior. We have seen a massive audience shift from prime-time to anytime. Gone are the days of media companies producing all content, where the audience simply sits back and takes it all in. Both magazines and newspapers are caught in a catch-22 of driving their audience away from traditional formats while hoping that Web revenues will grow fast enough to make up for losses they're experiencing in print.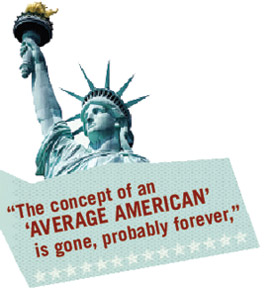 "THE CONCEPT OF AN 'AVERAGE AMERICAN' IS GONE, PROBABLY FOREVER,"
demographics expert Peter Francese writes in 2010 America, a new
Ad Age
white paper. There is no such thing as the "American consumer." The most prevalent type of household today is a married couple with no kids, followed closely by single person households. Also, in the two largest states (California and Texas), as well as New Mexico and Hawaii, the nation's traditional majority group – white non-Hispanics – is in the minority. More of Francese's 32-page report is available
here
.
Men are more likely than women to say that the internet has replaced their need to read printed newspapers and magazines, and also are more likely to be willing to pay for a subscription to an online newspaper or for a service to watch online TV with limited ads. According to a study by TargetCast tcm, consumers ages 35+ still consider newspaper ads to be more influential in determining their purchase decisions, but the study also reveals that newspapers need to change in order to stay relevant.
Today, everyone produces content and shares with each other. Consumers are now actively engaged in conversations between each other allowing for information to spread easily. Nowadays, it is all to simple to get your message out to the masses with technology like podcasting, blogs, social networking sites, online video sites, etc. Consumers are accessing media faster than ever and populating new content as we speak.
ONLINE VIDEO: THE POWER OF SITES LIKE YOUTUBE & HULU

Online videos make up 1/3 of all consumer internet traffic
Hulu runs about 4 ads per hour vs. 32 per TV hour
94% would prefer to view ads than pay a fee to watch online video content
Average consumer recall of an un-skippable ad online is 50%, versus 18% for an ad on TV

(Magid Assoc, 2008)
Also, the age of engage is getting younger. Sites like KidZui, Noggin and WebKinz have already captured many youngsters ranging in age from 3-12 years. By 2010, Millennials/Gen Y-ers will outnumber Baby Boomers. We have already seen the enormous power that Gen Y-ers hold from the last Presidential election. Fifty-percent of retailers last year redesigned their sites to be more creative and technically advanced for the Gen Y consumer. Gen Y-ers also get bored fast so retailers employed faster streams for their product pages. According to the Nielsen Company's "How Teens Use Media" report, the notion that teens are too busy texting and Twittering to be engaged with traditional media is exciting, but false. Instead of replacing traditional media with new media consumption, teens are simply making time for both.
Also, marketers are becoming stealth in their tactics to hit consumers without them even realizing it. Product placement is a great example of this and one of the best is Coca-Cola on the hit show American Idol. Another example is product placement in HBO's Entourage: from TaylorMade to Visa to the Los Angeles Lakers to Vince's birthday party sponsored by Victoria Secret. Some brands shown were more discrete like a Smuckers jar on the breakfast table, but if you can integrate a product into a storyline successfully, it is a thing of beauty.
Some things never change: Traditional mediums are preferred sources for news. Television is the biggest news source ahead of daily newspaper, radio and internet. Consumers see TV as the most credible source of information. Young adults, not surprisingly favored the Web more than older boomers.
THE FUTURE OF TV: SLOWLY BUT SURELY
Addressable Advertising
Addressable TV is a zone-based platform that allows advertisers to identify and target specific households based on demographic and geographic information. Marketers will essentially be able to route specific ads to specific households — an ad promoting diapers to families with infants, for instance.
Interactive TV Ads
TV viewers will be able to press buttons on their remote to see more information about selected ads, and to order samples of things like shampoo or cereal.
The amount of time spent watching TV at home increased by 2 hours and 2 minutes per month in the second quarter of 2009 up to 4.7 hours per day.
Time spent watching video skyrocketed by 45.5% averaging 3 hours and 11 minutes per person.
The number of people watching video on smart phones is up by 70% in the past 12 months, to fifteen million.
(Source: Nielsen Three Screen Report 2009)
Bottom line, consumers are tired of hard-hitting messages that don't apply to them and demand more personalized content. As marketers, we must keep a watchful eye on marketing and social trends to learn how consumers are evolving and embracing media along the way. It's all about the experience and relevance. If you can provide a consumer with a relevant and meaningful experience, chances are they will convert to a buyer and more importantly spread the word.