TURNING REACH & FREQUENCY INTO IMPACT & ENGAGEMENT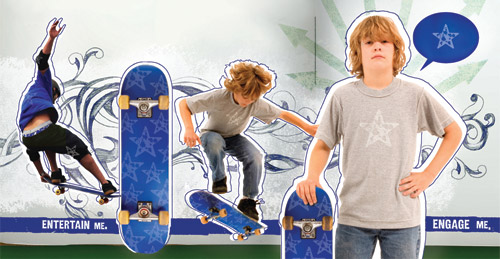 So, what does it mean to turn reach and frequency into impact and engagement? With consumers now calling the shots, we the advertiser, need to convey our message in ways that are both impactful and engaging. The days of hoping the consumer sees your ad on TV are gone, forcing marketers to reach consumers where they work and play. Grassroots marketing reaches key influencers that care about products and in turn become vocal supporters and brand ambassadors. This type of marketing is low cost but time intensive and allows advertisers to create lasting relationships.
Grassroots marketing is nothing new, but more and more advertisers are relying on it to reach the consumer. Technology has allowed consumers, especially the young, the luxury of having everything at their finger tips. With discretionary time dwindling and devices like DVR, satellite radio and online streaming becoming mainstream, media is more fragmented than ever. Grassroots marketing allows the advertiser to reach the consumer in an uncluttered and relevant environment where messages gain credibility. It is important to build these relationships and it is equally important to maintain them. Multiple layers of communication are needed to keep your message fresh, frequent and strong.
Many start-up businesses claim that young, tech savvy consumers are the lifeblood of getting their businesses off the ground. These young consumers crave goods and services and want to be the first to use them. They tend to be opinionated and outspoken, always willing to spread positive word-of-mouth far and wide. Today, it is essential that we court the young consumer. It often requires more effort but is worth it in the long run. The best thing for a product is to actually demonstrate how it works in front of an engaged audience. Also, gaining trust is essential and one of the best ways to do this is by the use of testimonials. You are far better served having consumers telling other consumers how great your product or service is, based on their own experiences.
A recent example of grassroots marketing took place in Florida. A group started a "Backyard Economics" program with three main goals:

restore consumer confidence
enhance in-state spending
jumpstart economic recovery

Campaign partners are mobilizing their members to join the cause and create mass awareness around this effort. Media partners including the Florida Press Association, Cumulus Radio and Comcast Cable are heavily promoting the Florida Backyard Card across the state. Also, members of the Florida Outdoor Advertising Association are spreading the word with postings on digital billboards statewide. The Backyard Card is an affinity card that allows consumers to receive special discounts on products and services if they subscribe. For more information, visit backyardeconomics.com and floridabackyardcard.com.
Consumers are looking for genuine companies who engage them with entertaining and meaningful messages. If a company launches a fancy "smoke and mirrors" campaign, they will quickly call you on it and may abandon your product. This audience realizes the value of two-way conversations where they can be heard in an open forum. Grassroots marketing is about building strong, lasting relationships with a specific group or community. Ultimately, this leads to loyal consumers, an enhanced reputation, strengthened awareness and increased sales.