You only have to spend about 10 minutes online to see that as a human race we're nuts about both.Or perhaps:
"It's a clear fact that the Internet is made of cats."
–Chris Torres, Creator of Nyan Cat
They are everywhere. The muse of hundreds of hilarious memes.
And of course there are millions of crazy videos.
Two of my personal favorites.
There are dozens of cat communities and social sites online like LOL Cats, Catster, United Cats and just last week, Catmoji, a new social network for cats was launched. Think Pinterest for the cat crazed.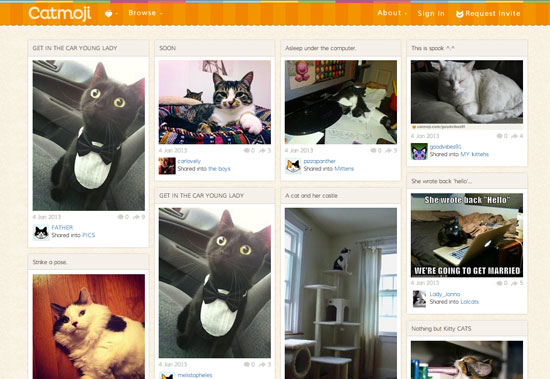 Why cats not dogs?
I ran across an article on Mashable that had a great quote that summed it up perfectly for me. And made me laugh.
"Dogs are the equivalent of a creative professional trying to manufacture 'the next viral sensation' to advertise a brand – sure, they'll have a hit now and again, but unless it's really exceptional work, you'll just ignore it, because you know they're doing it to get your attention," says Jack Shepherd, community manager at BuzzFeed.
"When a dog gets in a box, it's because he desperately wants you to think he's cool. When a cat does it, it's because it suddenly felt like the right thing to do at the time. More often than not, it totally was. I think it's the very aloofness of cats that makes us want to caption their thoughts, or put them in front of a keyboard and see what happens. The many Keyboard Dogs were a failure not just because they came second, but because they were enjoying themselves far too much."
Cats don't aim to please, so by their very nature they are more funny in what they do. And as Ben Huh CEO of the Cheezburger Network said, "Cats have very expressive facial and body expressions, so they are a perfect canvas for human emotion, which makes them awesome for captioning and anthropomorphization."
Yep there's that.
But there's also a number factor. Cats outnumber dogs. According to the American Pet Association's 2011-12 survey, there are 86.4 million cats kept as pets in the US. And about 50% of cat owners have two or more. (Ummm, I fit in that profile). By comparison, there are 78.2 million dogs kept as pets in the US, and most dog owners have only one canine companion. Given this, it isn't too surprising that cats are so popular online.
As for bacon…well come on…that needs no explanation.
Happy 2013!