The recession has taken its toll. In many ways. On all of us.
But one sector has been hit with a double whammy: non-profits. They're faced with increased demand and decreased funding, all on top of a systemic change in the nature of fundraising. Hundreds of thousands of non-profits are now in competition for funds. In some communities, as many as five major organizations may be conducting campaigns at the same time. But is one cause more important than another? Absolutely not.

60% of all U.S. philanthropy comes from high net worth individuals (with liquid assets of $1 million or more), which represents 3% of the population. And that percent is shrinking, FAST. As a result, non-profits are grasping for ways to replace the donors (and $) that are disappearing.
Of course, there's the next generation of key donors. There's been a great deal of publicity about the transfer of generational wealth, but as many non-profits are finding out, that doesn't automatically mean inheritors become donors. The same old strategies don't necessarily work. New approaches must include fresh thinking and a substantial effort to build and nurture prospects. And it all starts with an understanding of who the new prospects are and how to reach out to them.
ONLINE GIVING
Online giving is quickly becoming the growth engine for non-profits. And for good reason. Using the latest technology, non-profits are able to reach out to wider audiences and solicit smaller donations. Want proof that it works? Just look at the Obama Presidential Campaign. It proved that lots of small donations could add up to big money and could mobilize action. Technology advancements now enable non-profits to efficiently and effectively reach donors they've not been able to connect with before. Online giving continues to grow and now accounts for 5% of total giving, 16% of new donors and 27% of new revenue.
MOBILE GIVING
In mid-2008, the Mobile Giving Foundation (mobilegiving.org) was formed to open the mobile donation process to a wide range of qualified 501(c)3 non-profits. Through deals with the major cell phone carriers, a $5 or $10 donation is added to a phone bill when someone pledges by using a special code via an SMS (text) message. The money is collected by the carriers then passed on to the non-profit.
It's simple. And mobile phones are the primary communication device among younger audiences. Mobile giving has rapidly taken off. It's growing faster than online giving and more and more non-profits are adding a mobile giving option. It's anticipated that over $2 million will be raised via mobile donations in 2009.
Despite the economic landsca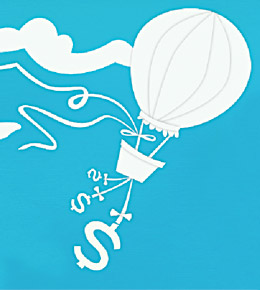 pe, the compassion of our society remains steadfast. It's our charitable spirit that makes America so unique. We understand what it means to help a neighbor. We understand what it means to give someone hope. We understand what it means to make our community a better place. So even though the way we donate might be changing, we're still as compassionate as ever and willing to help others. It's what makes us unique. It's what makes us America.
ECONOMIC UNCERTAINTY has proven to be one of the chief enemies of philanthropy. Charitable giving fell in 2008 by the largest percentage in five decades. Among organizations working to meet people's basic needs (food, shelter, clothing, etc.), over half (53%) said they are underfunded or severely underfunded in 2009.
THE NEW PHILANTHROPISTS:
Children of the Baby Boomers


Gen X (born '65 – '77) is the first generation to be online nearly all their lives.
&
Gen Y (born '77 – '94) is the first to have unlimited access to wireless/mobile technology.

They are donors who have very different characteristics and often different interests than their parents. They're young, diverse, multicultural, intolerant of bureaucracy and committed to individuals. They embrace technology. They have looser ties to "elite philanthropy" and status than past generations; they make decisions based on knowledge and research, and are risk takers. They seek to change the world.