A Communications Plan That Built Serious Momentum
Historic flooding hit the tri-state area in March of 2019 amassing more than $3 billion in damage. In Nebraska alone, 2,039 homes were damaged or destroyed. People's livelihoods were at stake with 340 businesses impacted, and livestock and crop losses each sitting at $400 million+. According to Gov. Ricketts, it was the worst flooding the state had seen in 50 years.
Recognizing that disaster relief funding was available through other organizations, FNBO saw a need for funds to aid with long-term recovery. Working with the Nebraska Community Foundation, FNBO established the Rebuild the Heartland fund to assist with rebuilding efforts in Nebraska, Iowa and South Dakota.
Bozell volunteered to help spread the word about Rebuild the Heartland. Though the bank provided the seed money for the fund, in order to have a meaningful impact, we needed more corporate and individual donors to contribute. Our biggest hurdles: breaking through the noise during a time of disaster and demonstrating the need months after the storm hit.
"Rebuild the Heartland" :30 Spot
Insights
Due to a limited budget, and in order to reach individuals in all three states, we decided we needed to utilize earned, owned and shared channels by developing a plan that incorporated social media, earned PSAs, earned PR and local events. We aimed to help FNBO publicize the establishment of the fund and to keep it in the spotlight even when the conversation of flooding died down.
Execution
With the fund created in less than 48 hours, Bozell was tasked with developing a full-fledged brand, website and campaign within two weeks. We invested a lot of hours in a short timeframe to develop the community-based messaging and imagery that would serve as the foundation of the brand. Bozell launched rebuildtheheartland.org and designed T-shirts, mugs, stickers, buttons and tote bags. Most importantly, we created a toolkit for corporate partners that joined the cause. The toolkit included a press release, logos, social media banners and digital banners for companies to use to promote their contribution and help spread the word about the fund and how to help the community.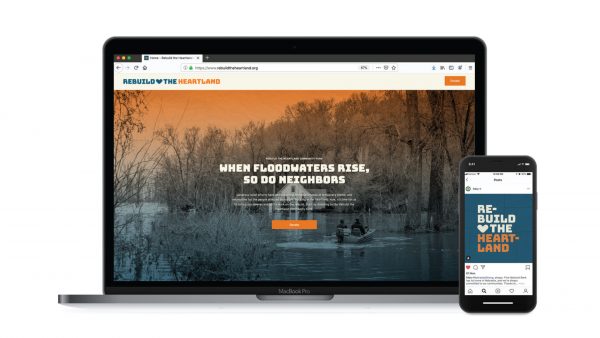 Once the assets were ready, we prepared to get the word out through an integrated, community-based approach, which included:
PSAs: Bozell's media buying team reached out to all area TV, radio and outdoor groups to secure free placements for Rebuild the Heartland PSAs.
Earned Media: After the bank announced the fund in April, Bozell aimed to keep Rebuild the Heartland in the news. As floodwaters began to recede, and the disaster was talked about less and less, we worked to keep it top of mind. In May, we engaged with Omaha media by delivering coffee and donuts to morning show hosts. Then, in the fall, about six months from when the flooding occurred, we engaged again – this time with media in all three states. We sent Rebuild the Heartland boxes with mugs, coffee, stickers and buttons to radio, TV and print outlets. We included an insert with a press release noting that, while time had passed, the need had not.
Social Media: We needed to identify a variety of social media influencers to help us spread the message within the shared channels. We reached out to traditional community figures, such as current and former Miss America, Miss USA, and Rodeo Queen winners, as well as social media influencers who focused on their local community, the Midwest and often featured passion projects. With a budget for only hard costs, we set out to send a PR box to influencers connected to Nebraska, Iowa and South Dakota, asking for them to share our message for free.
Events: Finally, in order to get out into the community and discuss the project one-on-one, we worked with the Do More Good Conference to make Rebuild the Heartland the featured cause at the gathering of business executives interested in philanthropy. Bozell manned an experiential booth at the conference, as well as booths at the NCAA Men's College World Series and High Vibe Festival.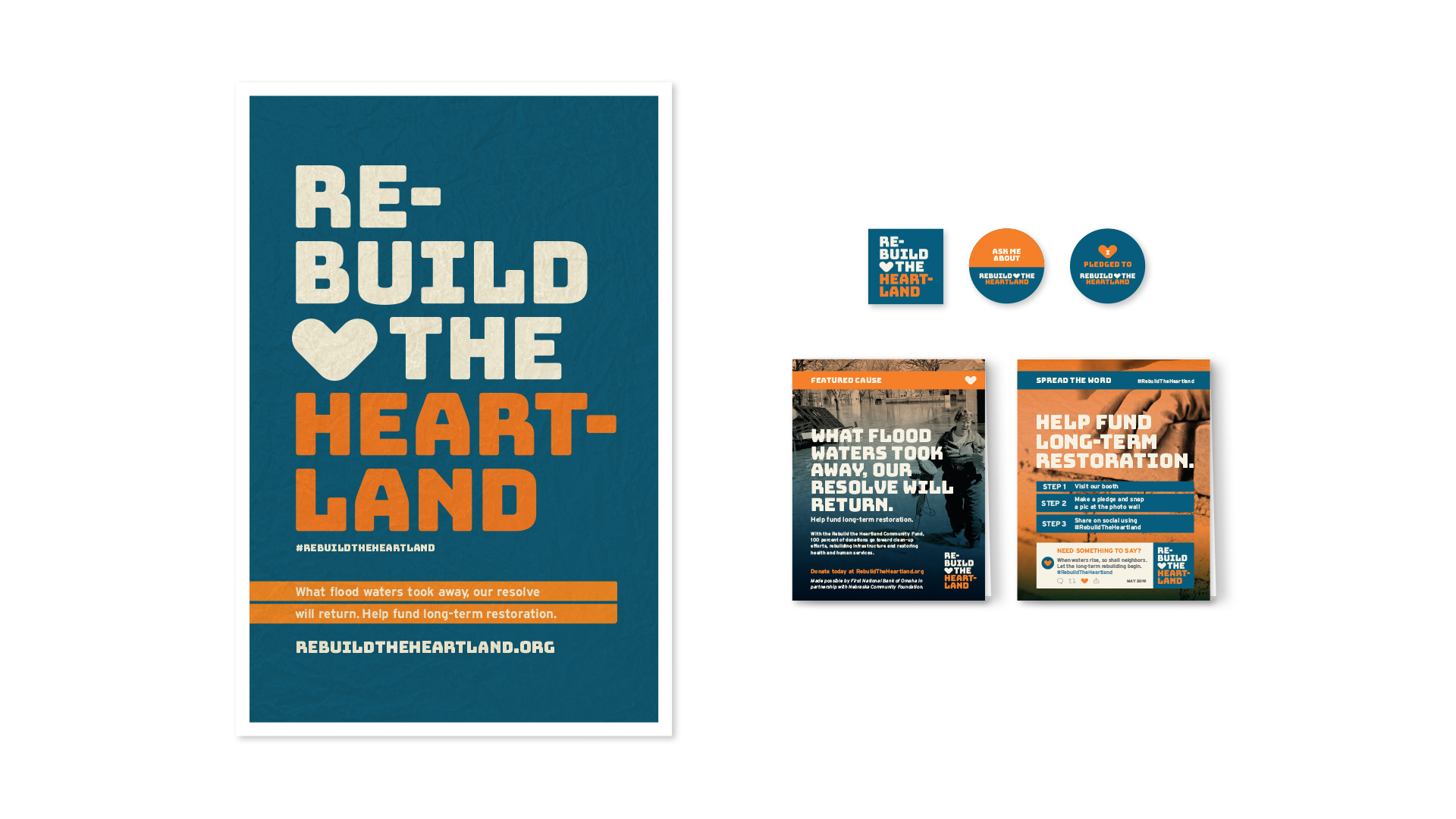 Results
Bozell secured several PSAs through several local TV stations, radio groups and outdoor board providers, amounting to nearly $100,000 in advertising value.
Through our earned media approach, we secured print, TV and radio coverage in Nebraska, Iowa and South Dakota, including a segment with South Dakota Public Broadcasting, an October article in the Daily Nonpareil, and a TV interview on KMEG's "Talk of the Town." Two of the three largest spikes in website traffic occurred at the same time as the May and September PR efforts.
10 influencers from Nebraska, Iowa and South Dakota posted about Rebuild the Heartland (without payment). Those influencers included the Kitty & Kevin Blog, Christian Jones, Amber Hulse, and Iowa Blessed. Together, they accounted for more than 225,000 impressions across Facebook, Twitter and Instagram.
We also effectively engaged face-to-face with hundreds of individuals to spread the word about the fund.
Most importantly, a significant number of dollars were raised to help with flood relief efforts. After FNBO contributed $300,000 in seed money for the Rebuild the Heartland Community Fund, more than half a million additional dollars were raised with the help of Bozell's integrated, community-based communications plan.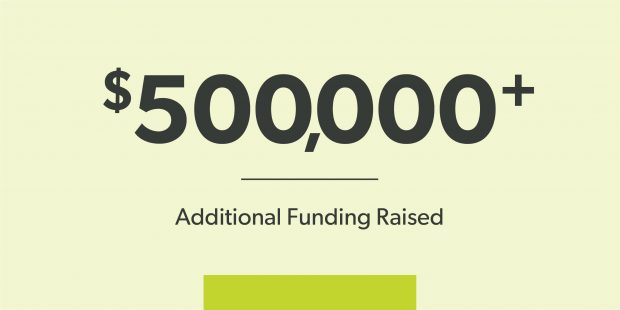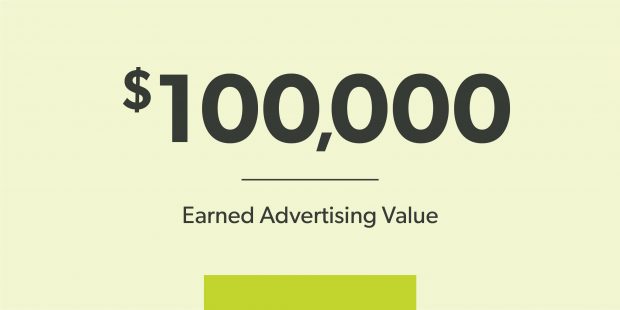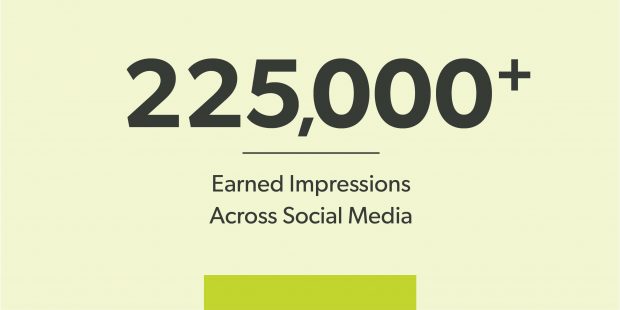 ---
---