For more than ten years, Bozell has provided marketing communications for VT Industries, the leading manufacturer of architectural wood doors and postformed laminate countertops. Our services have included development of brand identity, business-to-business advertising, home center support, customer loyalty programs, sales support, public relations, trade show support and collateral.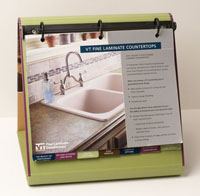 VT countertop sales were steady but slow and the product was viewed largely as a commodity. Based on customer feedback, VT and Bozell determined that VT countertops needed to be shown in various applications to demonstrate that these were not the laminate countertops of the 1950s.
Bozell developed an extensive library of imagery showcasing the variety of design possibilities with VT countertops, from the classic, upscale look of stone to trendy retro designs. The imagery highlighted the unique benefits of VT brand laminate countertops: a combination of exclusive edge profiles and high-end laminates from all major laminate manufacturers. The images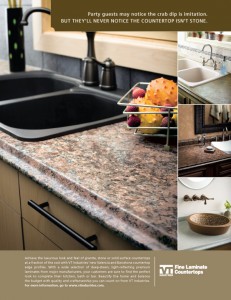 were used to introduce the "new" laminate countertops to the residential building market, targeting kitchen and bath dealers, fabricators and builders. We used trade print ads, a design idea book for builders, a product offerings catalog and technical spec sheets.
Sales reps reported several prospects that had decided to purchase based solely on seeing the ad. Others used the design idea book as an entry point to calling on high-volume builders, building relationships with these key customers.
When VT introduced three new countertop edge profiles, Bozell developed a trade print ad, collateral materials, an in-store display for fabricators and home centers and a media kit that positioned the new profiles as an affordable alternative to solid surface or stone. Feedback from customers has been overwhelmingly positive and initial sales of the profiles are strong.