What does mobile shopping mean for your business?
After last year's holiday season, there is a dizzying number of statistics surrounding mobile shopping, and several new ways of thinking have come to light. To put it simply: mobile is becoming the new online. It's already been proven that consumers use a number of sources to access information, and, when making a purchase, more than 30 percent are influenced by multiple "channels," such as print, TV and online. But mobile shopping is growing.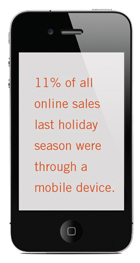 Eleven percent of all online sales last holiday season were through a mobile device, doubling from December 2010 to December 2011. This recent shopping behavior insists that all retailers incorporate mobile into their toolboxes, or face being minimized or removed from consideration sets.
As smartphone ownership numbers continue to rise, especially among younger users, more and more people are implementing Web on the go, changing how they access information.
Reinforcing the shift, 15 percent of all shoppers, and 38 percent of Web shoppers, have used their mobile phones to access a retail website, mobile site or mobile app. Also, 34 percent of online shoppers do product research from their phones, resulting in almost half of them purchasing the product right then and there. What may surprise you, though, is what's happening in your store.
For many mobile users, smartphones are helping them shop smarter. Among smartphone owners, approximately 84 percent say they have used their phones in-store to enhance their experiences. They've partaken in actions such as in-aisle price comparison, reading product reviews, visiting the store's mobile site, sharing findings on social media, and scanning a QR code. All factors that can persuade a purchase.
Also important to note is that 43 percent of these smartphone owners said they've used their mobile devices in-store to check out the competitor. They've visited a competitor's website, bought a competitor's product, and even decided to visit a competitor's store or website to make a purchase.
Thanks to mobile, just because a customer is in your store, that does not mean you're guaranteed a sale. Competitors now have the opportunity to deliver a more enticing price or experience before a purchase is even made. So strategies need to be in place to retain your in-store mobile shoppers.
First and foremost, establish whether or not a mobile Web page or application makes sense for your brand and customers. Providing a positive mobile space for customers to learn about your business and products will most often help make their shopping experiences better, as well as give your company more credibility.

Secondly, consider your competitors and try to compete with them in one of two ways:

Beat them with your prices.
Price is a big motivator when it comes to customers going with your competitor instead of you. Try offering price-matching or other incentives, or deliver coupons upon mobile check-in. Consider gifting these offers in return for input that you can use later to enhance their mobile experiences.
Beat them with your customer service.
Ensure that the in-store experience for customers is stellar. Many people check reviews while in your store, so make sure that the reviews they're reading are positive. If enough reviews complement your products/services, you have a better chance of making the sale, even if your prices are a little higher. Work with your sales people to ensure customer service is always top-notch.
Who is doing all this research? Foresee, Cisco, IBM, White Horse, and Prosper Mobile Insights have all shared research on mobile shoppers that influenced this article.