Widgets, badges, gadgets or mini-applications; call them what you will, but their use on social networking sites, blogs, desktops and personal websites has grown tremendously in the last year. Their increase in use and popularity relies on online "word-of-mouth" or recommendations by friends or trusted sources.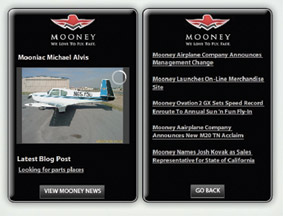 In the last year, Bozell has built a few widgets that we are particularly proud of. The first is a news aggregating application for the NCAA Men's College World Series website, cwsomaha.com. We have also produced two widgets for the Mooney Airplane Company: one is a news aggregator and the other allows Mooney Airplane owners to share their news, photos and more from the Mooney site on their personal blogs or Web pages. See these widgets in action at mooney.com.
How Widgets Work:
Widgets are self-contained pieces of code. The code acts like a set of instructions telling your computer to perform a small task. This task can range from playing a game to aggregating news to showing YouTube videos. These code instructions, widgets, are free to use, so anyone can copy the code and move it into, out of and around their blog, profile or website. They are also available on social networking sites such as Facebook (66 million users), MySpace (110 million users) and Bebo. Users can download, customize and forward to a single pal or an entire contact list with one click of a mouse.
According to Search Engine News, usefulness is the heart of a widget. Widgets give their users a new way to experience the Web and to interact with content. Instead of going out to a website to get a bit of information they need, users can check their widgets. Want to know the weather? Check your WeatherBug. Want the latest news? There are tons of widgets that can give you news from various sites. Forbes recently created and began promoting eight widgets that provide content from its site on topics that include technology, breaking news, business, stocks and lifestyle. The Washington Post offers a similar service. No need to search for this information. With a widget, the information is brought directly to your profile page or blog.
Why Widgets Work:
Widgets boast some other very cool aspects for both their users and their creators. They're very viral; their mobility makes them easy to share, and when made correctly, they're useful, providing information or entertainment a user genuinely wants. And they can also be a way to promote your site and your brand.
Widgets allow a company to couple their brand with a game or service that highlights the service or image of their company. This coupling instills a sense of correlation between the user and the company through the widget. For example, Forbes' widgets bring news data right to your blog. If users are unfamiliar with Forbes, the print publication, but they use and enjoy the widget, then they will at least correlate Forbes with news. Widgets provide a targeted form of advertising that is, in itself, a service. This correlation of brand and service can be effective for almost any industry because developers can build any variety of games or services into widgets.
Widgets Working Well:
This year, eMarketer projects that 2008 U.S. Web widget ad spending will reach $40 million.
In 2000, WeatherBug, a very small widget program that sits on users' desktops and does one simple thing — tells the weather — was released. In its first eight months, more than 1.5 million users downloaded it. Today, more than 65 million people have registered for the WeatherBug service.
Sony Pictures promoted the release of their movie, Resident Evil, with a sweepstakes tied to widget developer RockYou's very popular Zombies application. Sony anticipated nearly 10,000 entrants and received over 1 million.
Right now, many of the widget-use success stories are anecdotal. But, they do present some interesting alternatives to traditional advertising. Beyond the initial cost of building and submitting the widget to websites and networks, there are very few upkeep costs in widget promotion. A widget's lifespan and reach is limited only by the amount of interest that it can create. A widget will exist for as long as users use or enjoy its service. The long lifetime of widgets, their potentially low upkeep costs and an online trend toward open interfaces for developers will likely lead to a strong future for widgets.