Watching TV used to be so simple. First there were just a handful of networks. Then broadcast TV gave way to cable. But even as the number of channels multiplied exponentially, it was all still easy to understand. And buying it as advertisers was fairly straightforward. You called your network or cable rep for a national buy, or your local station rep for a local buy. Yes, it took smart planning and skills, but it was a straightforward proposition.
That was then. This is now.
Here are three things you should know about how it's all changing.
1.  While today, the television set is still the dominant mode for watching TV content, new viewing patterns are growing rapidly, fed by three factors. First is the growing usage of connected TVs. Second is the increasing availability of original content from nontraditional sources, such as Netflix or Amazon. Third is the binge-watching phenomenon – the clearest expression of audience desire to control how and when they watch content. And to make it even more complex, for the majority of us, watching TV is no longer a standalone experience. 78 percent of us use another device while simultaneously watching TV. (Right now, I'm watching HGTV while writing this on my laptop and checking email on my phone.) And it's evolving to a more unified TV-digital platform,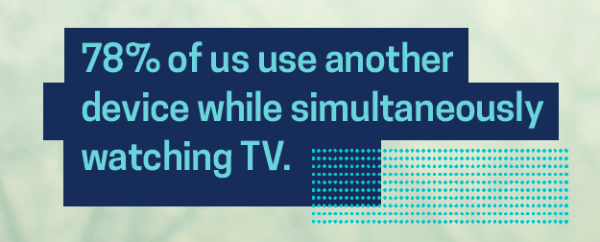 as evidenced by the fact that several small-pay TV providers (cable companies) have already announced that they will carry Netflix as a station. Eventually, it will become simpler for viewers and advertisers.
2.  What's happening in the TV ecosystem right now is an interesting twist. Think about this – traditional advertising has always been the driver. It has driven digital. For all the so-called innovation in the industry, all "new" ad units are merely re-appropriated old media. Native ads are simply advertorials, Instagram ads are merely print ads with shorter headlines, and TV ads have formed the backbone for every pre-roll video. But now, for the first time ever, we will soon see digital techniques shaping TV advertising. The upside of that is the heightened ability to target specific and/or narrow segments.
3.  A lot of the words we currently use to describe media and devices are no longer appropriate. Over the next decade, we expect the vocabulary that has been commonplace in advertising will begin to change. In fact, it's already starting. So familiarize yourself with these ecosystems terms to the right. Learn them. Use them.
TV Terms
Linear TV – Television service where the viewer has to watch a scheduled TV program at a particular time and on a particular channel.
OTT (Over The Top) – The delivery of video/programming over the Internet without a multiple-system operator (think cable company) in control of or distributing the content.
Smart TV – Internet is built into the TV itself. It includes a Web browser and keyboard, so you can browse the net.
Connected TV – A device connected to the TV that allows it to stream content over the Internet. Think Roku, Chromecast, Apple TV. (Note: 49 percent of U.S. homes have at least one connected TV set.)
Addressable TV – Enables advertisers to selectively segment TV audiences and serve different ads or ad pods (groups of ads) within a common program or navigation screen. Segmentation can occur at geographic, demographic, behavioral and, in some cases, self-selected individual household levels, through cable, satellite and Internet Protocol television (IPTV) delivery systems and set-top boxes (STBs). (Note: Currently available in about 50 million households.)
Linear to On Demand – TV links are made available for the viewer to activate via their remote control device. They can access on-demand content, often in the form of advertisements or merchandise for sale.
SVOD (Subscription Video On Demand) – Streaming service that allows subscribers to watch as much content as they want in exchange for a recurring fee, typically monthly and/or annually. Think Hulu, Netflix, Amazon Prime.
AVOD (Advertising Video On Demand) – Consumers can watch free-to-access content in exchange for viewing ads. Think YouTube.
TV Everywhere — Customers can access content from a network through Internet-based services (either live or on demand) as an aspect of their subscription to the service.