A few years ago, the full-service agency model really lost its way. In the process, the term became convoluted and pretty much meaningless. It became fashionable for full-service agencies to unbundle and specialize. One big trend was to become a digital-focused shop. Or maybe a social media shop. All the pundits claimed this was the road to success.
At Bozell, we resisted. For two reasons.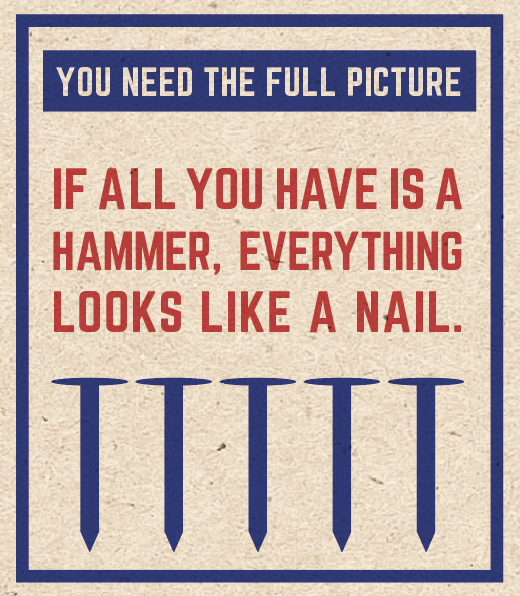 1. It doesn't give you the full picture.
The problem with a specialization in one tactic is if all you have is a hammer, everything looks like a nail. And that's not solving a problem; that's selling a tactic. To us, these single focuses were just one part of an integrated marketing plan, not a means to an end in themselves. And certainly not something you should build a business around.
2. It makes things more complicated.
Today, there is report after report on the fact that clients are frustrated by the complexity of working with dozens (sometimes even hundreds) of different agencies. Marketers are demanding that agencies simplify processes while continuing to deliver a complex array of marketing services specific to their needs. They want to cull agency lineups, and use fewer agencies (or even a single agency or other party) to lead the multidisciplinary throng.
Enter the great re-bundling.
We're now seeing things like Ogilvy's "Refounding" – a restructuring initiative Ogilvy has implemented that focuses on building cross-discipline expertise. Lucky for our clients, we've always had cross-functional teams that work together toward an integrated solution among all owned, earned and bought touchpoints. Even when we launched our digital group in 1994, and started integrating social media in 2006 when Facebook first opened its platform to the public, we saw these opportunities not as specialized offerings, but rather as part of an overall marketing toolset. Maybe because, from the very beginning, our founders were problem solvers, not ad guys.
For us, being a full-service agency means:
We approach the situation with a business mindset and establish key performance indicators (KPIs) up front.

We take it upon ourselves to learn the clients' businesses and become students of their industries.

We always recommend what we believe will achieve the objectives, whether we execute or someone else does.

Our teams work together to integrate across all owned, earned and bought channels.

We work with our clients to be able to measure results.

We monitor and report on all the work we do.
 At Bozell, we stayed the course as a full-service consultative agency because we don't believe the problem was with the full-service approach. We believe the problem in our industry was with the execution. Today, we're just struggling with the semantics and baggage of the term.