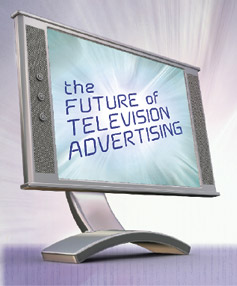 Everyone is worried about the future of television advertising. Lower ratings, spiking costs and over-fragmentation are causing some advertisers to search for more integrated mediums. DVR and the ability to completely bypass commercials aren't helping. More alternatives mean budgets get spread even thinner, often leaving a smaller percentage for the television piece of the advertising pie. So what is the television industry doing to stem the tide? More than you might realize.
Historically, the primary benefit of TV has been its mass reach. But in a world of personalization and individualization — in a world where audiences no longer plan their week around rigid programming — this business model starts to falter. How can you continue to be relevant to an audience in perpetual motion? To answer this question, TV is becoming more things to more people and, in the process, reinventing itself. Below are a few examples:
Interactive Television
TV as Point of Purchase:
Cable networks are integrating point-of-purchase capabilities directly into programming. With a simple click of the remote, viewers are able to make a purchase or receive product details via Video-on-Demand. The cable companies have enough consumer data housed to micro-target based on behavioral and geographic variables. This technology is estimated to be mainstream by 2010.
Apple TV:
One of the first successful attempts to integrate online with TV, this service offers the ability to rent HD movies, buy HDTV shows, buy iTunes music, share photos and even download YouTube videos. Where consumers once needed three or four separate devices to access similar content, now there's one. Not only will you have access to everything through one screen, but highly targeted, personalized messaging will allow advertisers to eliminate wasted messaging on a non-target audience. While this will take time to develop across the TV industry, experts argue it will be the model for the industry moving forward.
Interactive Television Partnerships
Mobile:
The TV industry has branched out into the mobile platform. SinglePoint (an interactive TV firm) formed a partnership with multiple networks like Fox, NBC, MTV, Bravo and the CW to deliver ads when someone engages in a call-to-action via their mobile phone. For example, when someone votes on American Idol, they automatically receive a targeted ad based on demographics from the wireless provider. Due to the extensive demographic knowledge carriers have of their customer base, it allows advertisers to specifically target their messaging.
Interactive Integration:
NBC's recent Olympics coverage was a new case study for the industry to emulate. With content occurring around the clock, the network continually updated results and included up-to-the minute video of events that weren't streamed on their main site. We talk about media fragmentation and the need to reach multiple touch points, this campaign did an excellent job. It included 2,200 hours of live online coverage, blogging by commentators, live events via mobile phones, Video-on-Demand and even a way to download coverage to a computer.
We live in a society where fragmentation is forcing media outlets to re-examine, and in many cases re-invent themselves almost overnight. It's exciting for the consumer, but it's even more exciting for advertisers. As you can see from the examples above, we have more resources and more capabilities which all translates into more efficacy. Advertisers will benefit by eliminating messaging to unnecessary audiences, and focusing their spending where they'll get the highest return.