Using Google Places to increase your organic search.
Google has made dramatic changes to its search algorithm over the past two years. Part of this change has been the integration of Google Places—a free business listing service that displays brick and mortar businesses in both Web and Google Maps searches. And unless you've just opened your doors, your company probably already has a Google Places listing.
These recent algorithmic changes have forced many business owners to pay more attention to their Google Places listings—especially if they service local customers.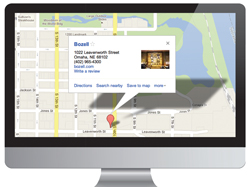 The good news is that optimizing your Google Places listing isn't very difficult. If you simply implement the following techniques, you increase your chances of displaying higher in Google search for both your business and category. In other words, you will be putting yourself in a position to succeed.
Add your company address to your Google Places account
This may sound obvious, but it is very important that your company's complete address be included. This will ensure accuracy when Google compares this listing with others that exist on the Web.
Ask your customers and partners to write reviews on your listing
Reviews have been proven to have a direct effect on listing rankings. It is also important to ask them to review your company on other business listing sites within your particular industry, as well.
Add photos and videos
These can help to reinforce the legitimacy of your listing and help prospects better understand your business offerings. You can upload up to 10 images through the Google Places editing interface. You can also add videos by first uploading them to YouTube and then adding the video URL through the Google Places editing interface.
Use important keywords in your business description
If you have been doing any pro-active search engine optimization, you will already have a priority keyword list. Implement these words into your listing. If you don't currently have a keyword list, then think about which industry terms people are most likely to search for when looking for your business or category. If you want to establish some keywords but aren't sure where to start, you can use the Google Traffic Estimator.
Get your company listed in other top local directories
By having numerous listings across multiple online directories, you increase the odds of Google picking up your business and website. Some of the most important are Yelp, Bing Business Portal, Yahoo Local, Best of the Web, Hotfrog, YP.com and Foursquare.
Try to get your listing score as close to 100% complete as possible
There is a certain amount of content within your listing that is deemed necessary. These are things like name, address, phone number and categories. The additional types of content, such as videos and additional keywords, will add to your quality score. While your listing will still display even if your score is lower, think of the complete score as a way to improve your listing.
We all know how important it is to be present when a customer or prospect is searching for a solution. The techniques outlined here should help you to effectively compete in organic search. If you have made the recommended changes and are still having problems ranking for the priority keywords you have identified, simply make some tweaks to your listing and watch for changes. In many ways, listing optimization is as much an art as it is a science. Best of luck with your online optimization and future business success.