The pros and cons of mobile applications.
It's no secret that the mobile market is huge, with more than 50 percent of U.S. consumers currently owning a smartphone. The market is only set to get hotter, with a projected annual growth rate of 20 percent through 2015. In spite of the incredible size and variety of devices on the market, the single most popular phone is undoubtedly the iPhone. Even though the iPhone only accounts for about a third of smartphones in use, it is the unofficial poster child of smartphones and their success. And, having an app in Apple's App Store has now become the chic tech trend du jour.
Apps like Angry Birds—which has gone from a casual game to a household name—and Instagram—the photo-sharing app bought by Facebook for one billion dollars—help create the sense of opportunity that I can only imagine people felt during the Klondike Gold Rush. But there is a common misconception that, if one gets an app in the App Store, success will come. Unfortunately, the App Store mirrors the gold rush in its initial sensationalism, as well as its eventual reality. During the gold rush, 100,000 people set out in search of riches, but only 4,000 found gold. For the Apple App Store, more than 100,000 publishers have set off in search of their riches and, correspondingly, few have found it.
According to research performed by Dave Addey on paid apps, the top percent of successful apps takes a lion's share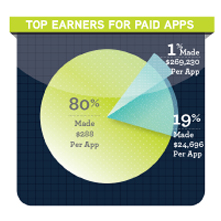 of revenue from the store (36 percent or $269,230 per app). The next 19 percent of apps are getting an average of $24,696 per app. Finally, the remaining 80 percent of app owners have made an average of $288 over the lifetime of their app. Regarding the one percent, Dave goes on to say "this top end of the store is no longer a market that's available to small independent developers."
It's pretty hard to make money on an app, and producing an app can be very expensive. Depending on the complexity of the app, you will be looking at anywhere between four-figure quotes from freelancers to five-figures and above quotes from professional development shops or agencies. The App Store is maturing and users' quality standards have been increasing with their exposure to professional quality apps, so think twice before trying to skimp on development costs. Having an unpolished app can be worse than having no app at all.
On top of the financial challenges, it can be pretty hard to even have your app viewed in the App Store. There are more than 700,000 apps available, and more than 800 new apps are being released daily. With discoverability in the App Store being incredibly challenging, and the possibility of being featured by Apple being highly unlikely, to get an app noticed you have to turn to other methods on the internet.  Lucky Frame's Yann Seznec put it very well when he said "the secret to getting lots of coverage … is just hard work." Traditional online advertising is a popular, but also potentially expensive option. Another route would be offering bloggers in your niche access to pre-release versions of your app to review.  Either way, time and money will need to be spent to get your app noticed.
The App Store is an excellent way to connect with users and provide compelling experiences, but, as we have learned, it is not without its challenges. Temper your expectations and think about why you want an app. If direct sales revenue is your goal, then you need to be prepared for a significant ongoing commitment. If you are simply looking to expand your presence to the mobile sphere, consider if your idea can be accomplished as a mobile Web app. Many of the same things can be accomplished on a mobile site, and, depending on your needs, this might actually be a better fit. With a mobile website, you can leverage your existing online presence and also be accessible by all mobile users (contrast this with needing a separate app for each major mobile platform). An experienced vendor should be able to help you weigh the pros and cons of each approach if you are unsure. Regardless of the route you choose, be sure to develop a long-term marketing strategy for your new mobile presence. The mobile world is very crowded and you will need more than just a
great idea to get noticed.