Between 76 and 78 million baby boomers across the United States are aging.
This group, the largest generation to date, will reach retirement age over the next two decades. In 2011, the first wave, the golden boomers, have begun to turn 65.
Aging boomers represent a huge opportunity for a variety of businesses, and many are positioning themselves for this transition. One such business is Right at Home, Inc. Right at Home is an international Omaha-based company whose franchises provide personal care and assistance to seniors and disabled adults in their homes. The company, founded in 1995, touts over 200 local, independent franchisees.
Right at Home knew that the aging boomers meant that even greater demand for its services was on the horizon. This necessitated a focus on brand positioning, messaging and strategic planning for the future. Right at Home enlisted Bozell to bring focus, clarity and consistency to the brand.
Bozell utilized its Branding From the Inside Out proprietary process to discover the magic inside the company and connect it with external audiences. It set the stage for a multi-faceted and coherent brand that will motivate and drive the business, and evolve over time.
Discovery is the first phase in the process. This phase researches internal and external audiences. Industry and trend analysis, and a corporate culture archetype survey were utilized. As a result, a couple of opportunities were identified. First, there was an opportunity to define the industry standard with the company's strong commitment to care. Second, an opportunity existed to simplify the often overwhelming experience of finding in-home care by delivering information in a clear, concise fashion.
Next was an assessment phase. Internal and external communications and processes were carefully analyzed, and Right at Home asked itself the following "-able" questions: Is the positioning desirable? Obtainable? Useable? Sustainable? Portable? Brand promises for current customers, prospective customers and internal audiences were a result of this phase.
A five-year marketing plan was developed, beginning with a re-orientation phase to introduce the new brand. Brand ambassadors were developed through a corporate employee and franchisee task force. An extensive internal rollout followed that included all forms of electronic and print communications, employee meetings, franchisee meetings and presentations at national conferences. Bozell presented at many of these meetings and conferences. A detailed brand launch kit was distributed to each franchisee giving them all of the tools and resources they needed to introduce and implement the new brand, from presenting it to staff and contacts, to the tools to operate the business, such as an online ad builder.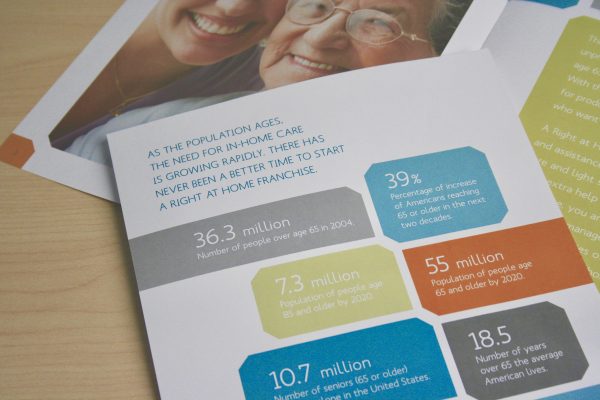 The internal launch was extremely well received. Right at Home saw record franchisee participation in webinars and collateral material orders, and the new brand guidelines and positioning were adopted with enthusiasm.
Simultaneously, a new website was launched as the first tangible consumer-facing element. The site was a complete custom solution tailored to the client's exact needs. It features a Care Assessment to offer personalized information to family members and their loved ones, and provides powerful accessibility and customization of individual franchise websites. Custom content creation, organic search engine optimization and lead generation were important elements considered in the site development.
The website is showing a dramatic increase in site visits and significantly improved traffic over the previous year. Referrals to the website from search engines have increased and the site is also showing prominent organic search results for identified key words and phrases on Google.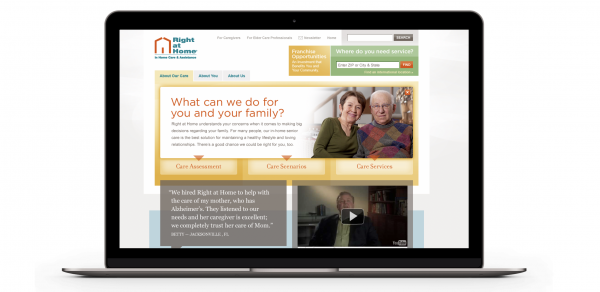 Much of 2010 centered on the assessment and re-orientation phases. The external launch phase of the marketing plan has only just begun. In 2011, the primary focus is online with strategic national partnerships with Caring.com and Oprah.com. Each major partnership engages a specific segment of Right at Home's target audiences. Content development in the form of articles, blogs, expert advice, videos, banner ads and re-targeting are all a part of the overall plan for the coming year.
Initial results from the external launch are excellent and will continue to be monitored for the duration. Right at Home is building a brand that is contemporary and aspirational. It will simplify the customer experience both online and offline and will continue to differentiate the company from the pack of competitors.
*Ezine Articles, "Baby Boomers Begin Turning 65," by Erica Goodstone, Ph.D