Reporters at major and regional news media outlets receive hundreds of news releases and e-pitches each day. The "Big Five" wire services – PR Newswire, Business Wire, MarketWire, PrimeNewswire and PRWeb – alone pump out more than 2,000 news releases per day, according to the Public Relations Society of America (PRSA). And this number doesn't begin to take into account the news releases sent by PR agencies, in-house public relations pros and groups representing this interest or that.
Harried by deadlines and bombarded by content, reporters typically toss or delete all but the most relevant – or intriguing – releases or pitches. It's no wonder that sometimes a great story misses the news completely. So, how does a company make sure that its message gets through to the news media – and ultimately to its target audience? While there's no magic bullet, at Bozell we find that ingenuity (and an intern in a homemade superhero costume) can go a long way toward conquering apathy in the news room.
Case in point: The Doody Dangler.
Recently, the Doody Dangler came into our lives, a small pet product without a home. The Dangler attaches a dog's "doody" bag to its leash. In essence, this product ensures that the dog's owner won't get stuck holding the bag. When we began promoting the Doody Dangler in December 2006, holding the bag wasn't the only problem. The Dangler had virtually $0 in sales and no exposure.
Who Gets to Meet The Dangler?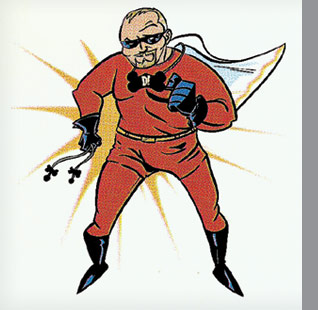 Pet accessories typically can't compete in a news cycle filled with political scandal, Hollywood hype or the rollout of such mega products as the iPhone. So, we knew going in that we would need to take a different approach. Instead of mass mailing a news release, we carefully picked one reporter from each major newspaper in the eight markets that the product would premier in. To attract product distributors and retailers, we also targeted key reporters at pet industry publications. Then we studied them. We researched these reporters' past stories and learned about their writing styles. We found out what they thought was cool. We later used this information to make relaxed and personal pitch calls. Instead of the usual cold sell, these calls more closely resembled chats with an old friend.
Dangler Style

Because the Dangler's selling points aren't as titillating as Scarlett Johanssen or as scandalous as Michael Vick, we knew that what we sent the reporters needed to be extremely eye-catching in other ways. If sexy and scandalous were out, our next best bet was humor. Scooping poop is no joke, but what if we had a hero who did just that? What if this hero embodied all that is good (not to mention neighborly) about the Doody Dangler? A Bozell artist created the retro-looking cartoon hero, The Dangler, and the PR Team took the joke one step further by having an intern dress up and pose as a come-to-life action figure. Our product pitch kit featured the Dangler's tongue-in-cheek adventures and included the following pieces, all laced with the Dangler's flare for fun:
Personalized pitch letters
Personalized press releases
Fake dog doody
Sample Doody Dangler product
Traditional blue dog doody bag
Polaroid of "The Dangler"
A comic strip that humorously illustrated the use of the product
Do they Love Him? Yes they Do!
Right away, we knew that The Dangler was doing something special. Every reporter we contacted knew about the product, had seen the package and had forwarded it on to at least one colleague. At least they laughed, right? We noticed that reporters wanted to speak with us. Since we knew something about each reporter from our research, conversations came easily. This was extraordinary! The Dangler received media hits on National Public Radio, Pet Product News, Tails, The Chicago Tribune and more. Maybe even more important than the initial exposure was the way The Dangler's comic heroics seemed to stick in the minds of reporters. Our PR team would speak with reporters weeks after the packages went out and they still remembered the Doody Dangler.
The Road to Riches is Paved with What?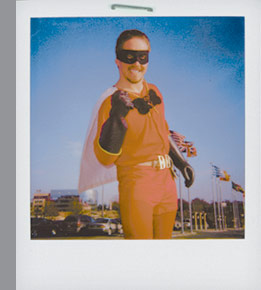 The Doody Dangler is now sold at independent pet stores across the country. It has increased distribution through Internet sales on several pet product sites: petmountain.com, ihome.com, abelpetsupply.com, pethintz.com, dailykibble.com, strictlypetsupplies.com and more. Out of the first shipment of 10,000 Doody Danglers, less than 2,500 remain. A second order is planned for 25,000-50,000 units.
In a news world where a small, online pet product has to compete with the escapades of Nicole Ritchie, the Doody Dangler's success can be an inspiration to us all. It's just one example of how a more personal touch can make all the difference. Around our office the Dangler has become a symbol of how creative ideas and thoughtful research can change the fate of a product – not to mention the intern who is now a new hire. Our public relations team constantly strives to find ways to keep our clients out of the clutter and on top of the media inbox. And if we can have a little fun in the process, well, that's what Bozell is all about.
To see the Doody Dangler in action, visit doodydangler.com (also developed by Bozell).