Four decades have passed since Omaha's own Marlin "The Magician" Briscoe became the first African-American starting quarterback in the NFL as a rookie for the Denver Broncos in 1968. The dramatic story of Briscoe's life and career as told in his autobiography The First Black Quarterback, is now close to becoming a feature-length film with support of actor and Omaha native John Beasley and his West Omaha Films partners Terry Hanna and David B. Clark.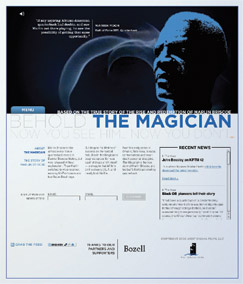 West Omaha Films recently tapped Bozell to develop a variety of communication outreach initiatives for the movie project. We jumped at the chance to play a part in this wonderful opportunity to spotlight Omaha and help promote the amazing and inspirational story that is Marlin Briscoe's life.
With a script almost complete, and the new website launched in February, the movie titled The Magician captures Briscoe's historical feat in the NFL and details the story of his rise to the top, his meteoric fall and his courageous and triumphant journey toward self-fulfillment.
"Throughout the years, I've been approached about potential movie projects covering my life and career, and it's never felt quite right," said Briscoe. "When John expressed interest, I felt at ease. He knows me very well and I trust him with my story. He will encompass the ups and downs of my life with equal detail and respect."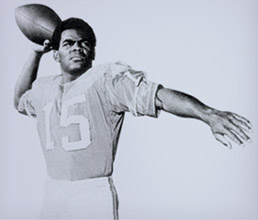 Briscoe's football career led him from being a 14th round draft pick for the Denver Broncos in 1968 to becoming an All-Pro receiver for the Buffalo Bills and an integral member of the 1972 Miami Dolphins — a team that remains the only undefeated team in NFL history. It was in his rookie year with the Broncos that Briscoe broke the color barrier in professional football, becoming the first African-American starting quarterback, and finishing his first season with 14 touchdown passes, a rookie record that still remains.
Briscoe's life, however, took a different turn following his departure from the NFL. He fell into the vicious cycle of drug addiction, a path that led to his being on the receiving end of a drug dealer's gun, becoming homeless and eventually going behind bars. In a life spent overcoming odds, this situation proved no different. Perseverance prevailed, and Briscoe finally faced his addictions, his fears and his critics to become what he is today, a men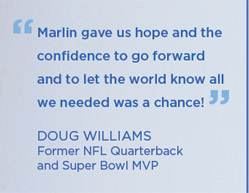 tor to young people in Los Angeles. He coaches them about overcoming life's barriers and the dangers of drugs.
It was Briscoe's continued perseverance that ignited John Beasley to make The Magician a reality. Upon forming West Omaha Films, Beasley and his partners soon thereafter connected with screenwriter Patrick Coyle and announced the completion of a three-year option agreement with Marlin Briscoe to produce the movie about his life and career.
The response to the film has been positive. The Omaha investment community has taken note; Omaha's Crowne Plaza Hotel and Fleming's Prime Steakhouse & Wine Bar have signed up as partn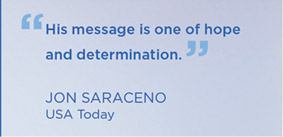 ers; and word about the project is quickly beginning to spread nationally and to those throughout the Hollywood community.
Along with developing a new website for The Magician, Bozell has a variety of public relations and social media initiatives in the works, and will be providing counsel for potential investor and project sponsorship opportunities as the project continues to progress.
"We are excited by the response to the project so far, and we are delighted to have Bozell by our side as we move forward," noted Beasley. "Marlin's story needs to be told. For African-Americans, football fans, the city of Omaha and more. It's truly an inspirational American story."
For more information about the movie and to learn more about Marlin Briscoe, visit marlinbriscoemovie.com.