To cut or not to cut, that's the marketing question. During this recession many clients are evaluating every expense. Many may not realize that cutting your marketing budgets can have significant consequences, both now and in the long run.
According to a study from McGraw-Hill Research, companies who consistently marketed themselves during the recession of 1981 & 1982 had sales 256% higher after the recovery than those who stopped marketing.
Recessions can be an opportunity for companies to differentiate themselves. There are countless ways to keep your company's brand in the forefront of consumers' minds. For example, Bozell's Smartargeting combines intelligence, strategy and targeting to keep your brand in front of the customers you want most.
Your first priority during a recession should be customer retention. By using some creative analytical tools and messaging that compliments your strategy, you can develop a footprint of your best client, then find prospects that look just like them.
Our advice is: make a plan; plan your work; work your plan.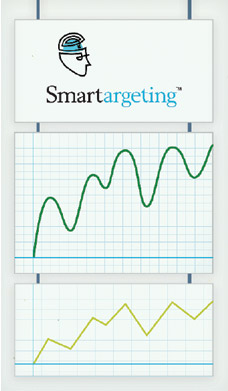 By following these simple rules, you can maximize your marketing budget. Defining lifestyle tendencies and household demographics are the keys to smart spending. These tactics are not only return-on-investment-driven, but also relationship-driven.
Companies in tough industries, such as building manufacturers, have continued to promote their brands by using integrated techniques. Using database marketing can be as effective as advertising because it is targeted to resonate only with your selected audience. By segmenting your target audience into opportunities, you can develop the most cost efficient way to communicate to them.
This strategy is not only successful with businesses that market directly to consumers, but also with organizations which target other businesses. Business to business companies often use Smartargeting to find those that will pass credit hurdles and continue to bring in money. Pre-screening based on acceptable selection criteria such as credit and years-in-the-business will help your company maintain its ROI.
The current recession offers a chance for companies to differentiate their business and better position themselves for the future. Smartargeting allows our clients to wisely spend their marketing dollars and better learn how to serve their customers.