The Court Appointed Special Advocates (CASA) for Douglas County Nebraska is celebrating its 10th anniversary this year with a new marketing campaign and tagline — "CASA, a powerful voice in a child's life." Consisting of TV public service announcements, print advertisements, newly designed collateral and letterhead, the campaign was produced by Bozell's summer interns, with mentoring from agency staff members. Their challenge: how to re-introduce CASA to Douglas County in a big way.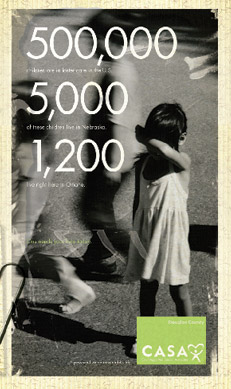 CASA staff met with the Bozell intern team at the beginning of the campaign and identified their greatest needs. In order to continue providing their unique services to the hundreds of children in foster care, CASA needed to increase the number of volunteers by having a greater, recognizable presence in Douglas County. As a not-for-profit organization, CASA provides advocates to abused and neglected children within the court system. Judges rely on the information CASA volunteers provide to decide whether these children should be adopted, reunited with their families or placed in foster care.
The main goals of the marketing campaign, which required more than 700 hours to plan and execute, were to build general awareness of the organization and increase the number of volunteers. The local CASA belongs to the National CASA organization, but the Bozell intern team chose to improve local brand consistency by designing materials specifically for Douglas County. By creating uniform graphics and branding, general awareness was addressed. As the interns created each piece of the marketing plan, they ensured they were providing CASA with materials that fit within their funds, while maximizing effectiveness.
All of the pieces created work together to brand CASA locally while allowing the use of the materials into the future. Beyond basic creative executions, the interns also suggested basic website upgrades, as well as numerous public relations and media opportunities.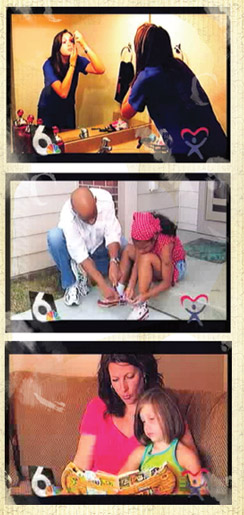 The project included the unique opportunity to work on the development of several public service announcements with WOWT-TV. From script-writing to production, this was a chance for the interns to learn from the experts what exactly goes into creating a TV spot, and also a fortunate opportunity for CASA to have a creative public service announcement aired to launch their campaign.
The Bozell team also provided CASA with an event plan and invitations for an open-house celebration at their new location. All the components included in the marketing campaign will help to build CASA's general awareness, leading to more volunteers and donors.
"Supporting non-profits is a great chance for our interns to gain experience and work one-on-one with some of the brightest and best in our industry on a real campaign, while at the same time making a difference in the community," said Kim Mickelsen, managing principal.
GROOMING THE BEST & BRIGHTEST

Each year, Bozell invites the best and brightest students to compete for a chance to learn the ropes firsthand. This chance at one of six available internships isn't easy; the agency typically receives more than a hundred applications each summer.

"My Bozell internship was the start of my marketing career," said former public relations intern Heidi Smith, who later served as marketing director of the Nebraska Lottery. "It gave me a real-world taste of what a marketing career could be and the experience that I needed to head down that path."

Formally organized in 1993, the Bozell interns don't pick up dry cleaning, make pots of coffee or hang out in the file room. They develop close relationships with experienced professionals in their fields, refine their skillset and become familiar with the fast-paced agency life.

"It's a great way to determine if working in marketing really is your chosen field," said Kim Mickelsen, managing principal. "You find out really quickly whether or not you love it. And if you love it, you will make it in this fast paced profession."

In addition to assigned client projects, the interns work together to create a marketing plan for a local non-profit organization. This summer, the interns worked with Court Appointed Special Advocates (CASA) for Douglas County. From building signage to public service announcements, the interns learned what it takes to develop a successful campaign.

At the end of the summer, Bozell interns go on to produce outstanding work. There are currently three former interns working at Bozell and others have moved on to work for companies such as Mutual of Omaha, TBWA/Chiat/Day, BSMG Worldwide and DDB Needham.