Location-based marketing is on the rise.
With smartphone adoption and usage on the rise, the percentage of people using their phones to find local information is increasing dramatically. In fact, a recent study by Pew Research Center found that nearly three quarters of smartphone owners accessed location-based services (LBSs).
The most well known LBS is Foursquare, which has more than 10 million users. But, because of the growing demand for more hyper-local information, as well as more marketing options that reach consumers, LBSs are rapidly moving beyond check-ins. Several mobile apps, like the Weather Channel and Pandora, are now offering location-based ad options.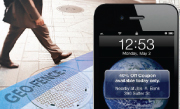 If you are a marketer, one LBS application worth learning more about is geo-fencing.1 From a marketing standpoint, geo-fencing refers to setting up a digital perimeter around a physical place (i.e., a store or shopping area). The crossing of the digital geo-fence by a consumer with a smartphone triggers a marketing offer, such as a coupon or other special offer.
With mobile apps, consumers don't have to check into a location to receive a LBS ad, but they do have to open an app to see one. Geo-fencing sidesteps that. After the consumer completes an initial opt-in (usually through a third-party operating the geo-fence for a brand) all that's required to participate is for the phone to be turned on in order for a marketer to target someone with a local ad. Imagine walking into the grocery store and getting a coupon for Pepsi or Wheaties, or into Home Depot and getting an offer for $5 off $25 spent, or into Kohl's and getting a 15-percent-off coupon.
Many retailers are already using geo-fencing (also referred to as proximity marketing) to fight showrooming—the trend of visiting a store to view or try on the product in person, but then going online to purchase the item at a lower cost. Placecast's ShopAlerts program has more than 10 million registered users and more than 130 companies that have used their platform to run marketing programs, including Kohl's and Subway. North Face has been using geo-fences since 2010—not only around its stores, but also around parks and ski resorts to deliver snow reports to skiers on their way to the slopes.
Geo-fencing has been around for some time, but it hasn't gained a lot of momentum. However, that is changing and it is going to become very real over the next few years. The reasons are:
Smartphone usage has become mainstream
Geo-fencing technology has matured and dropped in price
Location-based ad targeting is getting more sophisticated and accurate
Consumers are more accepting of geo-targeted advertising
Location-based technology will have a major impact on marketing and will redefine behavioral targeting. Marketers have always wanted to be in the right place, at the right time, with the right messaging. And, with the ever advancing nature of technology, as well as the advancements in location-based marketing, we are getting closer each day.
To read more about geo-fencing and other LBSs, check out http://bozell.com/lbs.