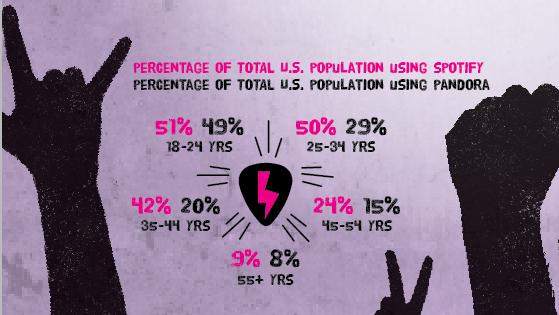 Pair your brand with someone's new favorite band. Because Pandora uses an algorithm to provide music recommendations to its users, advertisers have the capability of reaching a hyper-targeted audience. With 15 second and 30 second audio and video ads, display ads, branded stations, sponsored listening and other various options, brands have a range of options when sharing their message. Starting at $5,000 minimum, it's the perfect option for a local company wanting to target a niche audience on a budget.
But be wary, nothing is more annoying than being interrupted during the end-of-day commute jam session. It's important that advertisers become a part of a Pandora users' experience. Also, keep in mind that 85 percent of listeners are tuning in via mobile, so you'll need to plan creative strategically. Your goal: don't interrupt, integrate.

Spotify is the digital music service your kid keeps trying to get you to pay for. It's free for users who accept ads, but subscribers can avoid ads by paying $9.99 for Spotify Premium. While only about 30 percent of active worldwide users are using Spotify Premium, their business model aims to convert users to a subscription.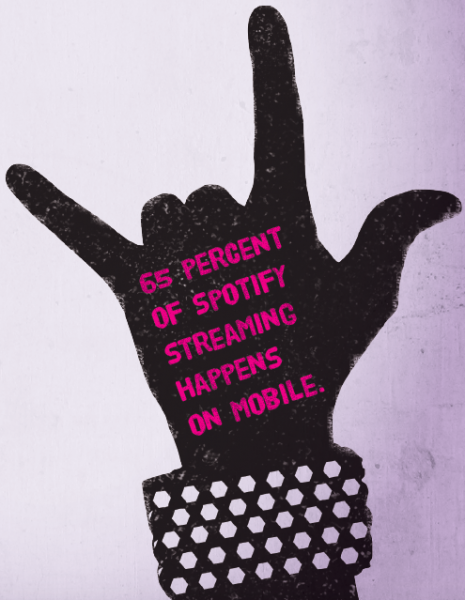 But don't stress, Spotify has great tactics in play for advertisers. Spotify boasts that they only serve display ads when the user is engaged, so you can be comforted that your impression won't be served to a distracted audience. Again, keep engagement as your goal and avoid disruption. If your next client has money to spend and is targeting a young audience on a national or international level, look no further than Spotify for your digital music advertising platform.