How Motivational Emotions Create a Recipe for Social Success.
As Apu Gupta, CEO & Co-Founder at Curalate put it, "The Holy Grail for a marketer is not a transactional relationship but an emotional relationship with the consumer."
As marketers, we know that emotions push us to act in all aspects of our lives. Think about the last time you made a decision. Whether it was buying a shirt, changing your brand of toothpaste or even purchasing a home, what made you decide to purchase? While it may not have seemed like it at the time, your decision was likely based on emotion.
Humans have been said to only have four basic emotions: happiness, sadness, fear/surprise and anger/disgust – all of which can be found on social media at any given time. Think about it. Every time we open up a social media app, we're flooded with all of the above: wedding and baby announcements, an obituary of a loved one, and disasters (natural or otherwise) that grip the nation's attention.
If you've ever felt your emotions shift in some way after scrolling through a social site, you're not alone. Emotion via social media can be contagious – and powerful. Studies show that positive emotions toward a brand have greater influence on consumer loyalty than trust and other judgements, and harnessing the right emotions for your brand will work wonders for your social strategy.

Know Your Followers, Know Your Brand
Playing into emotions on social media is imperative for businesses, and it's impossible to ignore how emotions influence our behavior. In order to generate and communicate genuine emotions, we must know the right emotions to share with each social following. To do this, we measure the type of content that generates the highest levels of engagement.
Case studies have shown that positive content is shared more quickly and widely than sad or negative content, largely because that "happy" content acts as a distraction from what's often happening around the world and in the news. When it comes to social media campaigns, you can harness happiness not only to motivate people, but to condition them to be more likely to share your brand's content in the long run. Case studies have also shown that positive news inspires other users within the same friend network to do the same as well, essentially creating a spiral of happiness.
Emotions that Make an Impact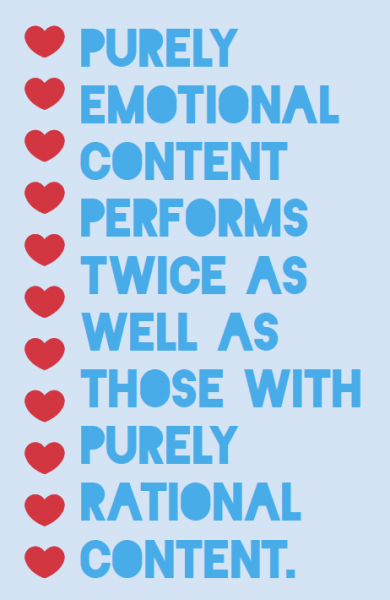 A study from IPA dataBANK showed that social campaigns with purely emotional content performed about twice as well as those with purely rational content (31% vs. 16%). Pair that with the fact that people intrinsically want to share things with friends, and you're on your way to building an emotionally driven campaign that adds value to their daily lives through emotional
social media.
Facebook has publicly displayed just how important emotions are when, in 2016, they added emotional response capabilities to the Like button functionality. Ranging from love and laughter to sad and angry, Facebook is able to measure people's emotional reactions to content shared on its platform. Additionally, users are promoted to type in a "Feeling/Activity" within the status of the Facebook homepage – clearly, Facebook has recognized the immense value of emotions on social media.
But what if the emotions go the other way? What if you find yourself and your brand in the middle of anger and fear? Crisis plans are a necessary part of any social strategy. This isn't to say these types of emotions are always bad. In fact, they can be quite powerful, which is why we should use them wisely.
Emotions that Work for Your Brand
With all of this said, one can't just begin publishing emotional content on social media without a plan. It's a unique process to understand what resonates with your followers and what creates engagement. Use a testing period to understand what is – or isn't – working. Be sure to use the social platform's built-in reporting tools to glean the engagement that's happening behind each post. And remember, quality always outperforms quantity.