How Red Mango Cashed in on the Budget-Friendly Snacking Trend
Post-recession consumer behaviors have shifted for the long haul. Instead of extravagant vacations and luxury services, people are going for smaller, more budget-friendly indulgences.
A CNN article, "How to get the most happiness for your buck," recommends that consumers "go for quantity, not quality" when dining out because according to recent research, "the happiness you get from small and large purchases alike eventually fades." AdWeek says people are following this advice, and restaurants across the country are modifying their menus to cater to a new group of snackers in "Luring Back Wary Diners." As many as 52 percent of these consumers view snacking as a way to treat themselves and choose indulgent treats instead of healthy ones.
When Red Mango, the fastest growing frozen yogurt franchise, prepared to launch their first two locations in Omaha, they wanted to make the most of the opportunity.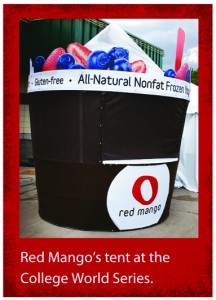 Red Mango wanted to build excitement and anticipation for its new locations. Bozell created a unique, yogurt-cup shaped tent, which Red Mango used to give out samples at the Men's College World Series and O-Fest. The tent was eye-catching and built brand recognition. Each franchise was launched with an opening day celebration, including free frozen yogurt.
Bozell's Smartargeting helped Red Mango develop a carefully targeted direct mailing to promote the grand opening celebration. The campaign was aimed at women, ages 20 to 54, living within a two-mile radius of the stores. A second mailing offered a coupon for the unique kosher treatment of Red Mango's frozen yogurt to Omaha's Jewish community.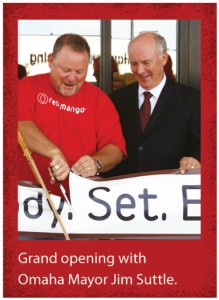 To announce Red Mango's entrance into the Omaha market, Bozell worked with the Greater Omaha Chamber of Commerce to coordinate a ribbon cutting with Omaha Mayor Jim Suttle and other representatives and members of the Chamber. More than 3,200 attended the grand openings for free yogurt, live music and hot air balloon rides. Radio remotes from local radio stations aimed at Red Mango's target audience helped spread the word about this new healthy alternative to other sweet treats. The ribbon cutting and grand openings received multiple mentions in the Omaha World-Herald, with additional coverage in local publications, radio shows and TV stations.
The careful planning and efforts to build hype paid off. Red Mango Omaha's initial grand opening celebration was the most highly attended in the history of Red Mango. Red Mango positioned itself for a strong future with Omaha snackers.
Additionally, to enhance the user experience for Facebook fans of the Red Mango Omaha store, Bozell built the "My Mango" Facebook application. The application allows fans to create their own digital Red Mango treat, choosing from all the varieties of Red Mango flavors and toppings. Then, the application presents the final creation with a calorie count and the health benefits of the custom treat. The app then invites users to share the treats with their friends. In the first month since the launch, 367 different treats were created on the Facebook page.