Tate & Lyle is one of the world's leading providers of food ingredients. It literally supplies hundreds of different ingredients — such as sweeteners, starches, fiber and more — to leading food manufacturers such as Kraft and ConAgra.
Most people who work in the food manufacturing industry know who Tate & Lyle is. However, because of its long history and respected reputation as a quality ingredient provider, many of those people also thought that they knew everything there was to know about the company.
Tate & Lyle wanted to change that. It was looking for a "wow" factor that would make customers and potential customers stop and say, "Maybe I don't know everything there is to know about these guys."
The International Food Technologists (IFT) Food Expo happens once a year. It's like Disneyland for food technologists and research and development folks. It's a packed house of food industry decision makers looking for inspiration and the next big idea. That makes it a great place to connect with existing and potential customers, but it's also an overwhelmingly challenging place to find a way to stand out in the crowd.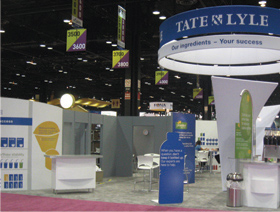 Tate & Lyle approached Bozell to develop a new approach for its entire presence at the IFT Food Expo. In the past, its exhibit design and messaging had been largely product focused — showcasing top-selling products such as SPLENDA® Sucralose and PROMITOR™ Dietary Fiber. It had seen success, but didn't feel that it was truly communicating its innovative approach of going beyond just providing individual ingredients to providing complete customer solutions.
Using Tate & Lyle's existing booth to maximize budget, Bozell created an entirely new platform for the IFT Food Expo. The theme "Our Ingredients — Your Success" focused on the partnership Tate & Lyle builds with each of its customers. The messaging reinforced Tate & Lyle's proactive approach and ability to work with customers throughout the product development process to find the perfect solution to product challenges.
A fresh, contemporary design not only stood out from the more traditional look of other exhibitors, but also produced the backdrop for six stations featuring prototype products addressing the latest consumer trends driving new product innovation.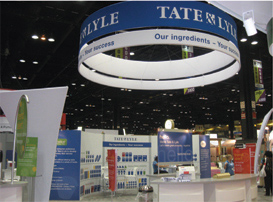 For example, one station featured the trend of healthier family snacks, and offered samples of no-sugar-added peanut butter cookies with 6g of fiber per serving made with SPLENDA® Sucralose and PROMITOR™ Soluble Corn Fiber. Another featured the trend of consumers' increased desire for exciting new tastes and textures, and featured crunchy coated nuts made with PROMITOR™ Soluble Corn Fiber and X'PAND'R® SC corn starch to produce a light and crispy coating.
Tate & Lyle booth attendees received a punch card to track their visits to each trend station. Those who did were eligible to enter a drawing for an Apple iPad or iPod Touch. Pre- and post-show emails to  attendees featured the same messaging as the booth and were designed to generate booth traffic (pre-show) and reinforce the booth message to maintain customer awareness (post-show).
The booth received heavy traffic throughout the show, and generated 270 leads for requests on specific product details and 35 requests for actual product samples. The client was exceptionally pleased with the creative approach and the finished product. Tate & Lyle's mananging principal of promotion for the Americas, Stephanie Edgecombe, reported that the Bozell team "really helped us make great changes in the way we communicate…it was great to be amongst those who thought differently and gave me support to push forward new ideas within the organization. You've made a huge impact and it is recognized."