Pets are Changing Our Lives.
he pet industry is evolving and, at Bozell, we enjoy every furry, feathery, and scaly moment. Many of us have pets (dogs, cats, bunnies, horses, fish, chickens, at least one donkey and a gecko) and several of us volunteer with local rescue groups. We're passionate about this industry because it is part of who we are. In addition, our marketing and research expertise continues to help us better understand how to connect with pet owners.
Pet ownership has been growing steadily since 1988, when the American Pet Products Association started counting, and today approximately 62 percent of U.S. households have at least one pet with about $53 billion being spent on pets in 2012. Between 20 and 30 percent of household pets are adopted from shelters or rescues, approximately 26 percent are purchased from a breeder and two to 10 percent are purchased from a pet store. But the majority of pets come into homes for free – or at a very low cost – from friends or family (APPA).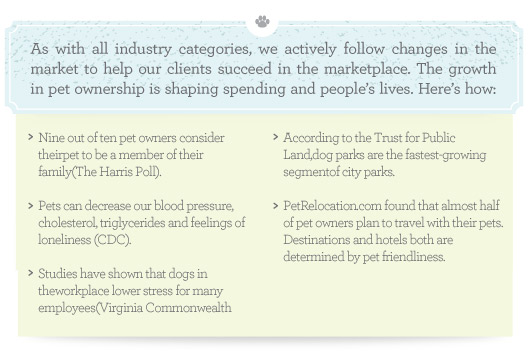 As pets continue to become important family members, the industry is projected to continue its growth as well. We are already seeing changes in communities with more dog-friendly parks and an increase in the number of pet-friendly businesses. Our own personal interests as pet owners impel us to closely follow these changes and our clients benefit from our conviction. But, our marketing expertise helps us successfully connect with this audience in compelling and timely ways.