Every day, Catholic Charities helps people facing life-changing decisions. Whether it's someone choosing to walk out of a domestic violence situation, seek addiction recovery services or ask for food assistance when they have fallen on difficult economic times, Catholic Charities is there to help. In their 83 years of existence, Catholic Charities has become one of the largest service providers in Nebraska, helping more than 75,000 individuals regardless of race, religion or socio-economic background. Catholic Charities is one organization that's really making a difference in people's lives. And Bozell couldn't be more proud to have the opportunity to work with them.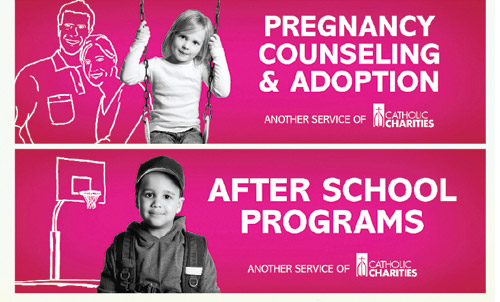 Using a vibrant color palette and positive messaging, Bozell helped kick off the Catholic Charities' 2008 Annual Appeal campaign and ignite their rebranding initiatives – showing how Catholic Charities has been boldly changing the Omaha landscape by providing education, encouragement and hope. The centerpiece of their campaign included vibrant pink outdoor boards featuring the Omaha skyline. But instead of bricks, the buildings are built out of words that encompass the many members of our community. This is all part of Catholic Charities' plan to focus on positive outcomes, rather than the negative aspects of the communities that are served.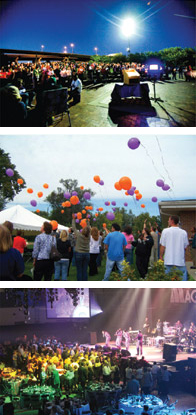 Catholic Charities has embraced the integrated marketing communications approach to their rebranding efforts. They've used elements such as print and radio ads, television commercials and billboards to reflect their bold new look. They're also communicating directly with donors through their annual report and "The Catholic Voice" newsletter, with client, donor and volunteer outreach stories communicated with touching photographs. Their many celebrations and donations are routinely covered by television, radio and print media.
What's more, Catholic Charities is an expert on a wide range of topics from race relations to immigration. And in order to convey their expertise to a younger audience, Catholic Charities has established a presence on YouTube, Flickr and Twitter. They post information on their outreach efforts on a community, school and Parish level.
In order to change the landscape of their community, Catholic Charities communicates with a large and diverse audience of donors, volunteers and clients. And using a positive message while acknowledging the appreciation of the generous donors and volunteers, Catholic Charities is well positioned for growth and prosperity. They have significantly increased their donor base with gifts that range from a few crumpled dollars given by children to significant estate endowments – all together will help tens of thousands of people in the coming year.