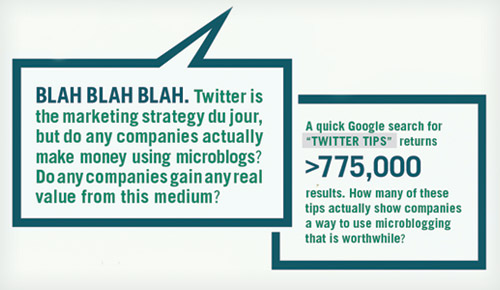 There are thousands of strategies that will attract followers and make your profile appealing; however, it is difficult to actually generate income.
Here at Bozell, we want to simplify things. Out of the thousands of Twitter tips and strategies, we have identified three ways that companies are effectively using a microblog service today that have resulted in real benefits:
1. Micro Customer Service: These companies give customers a way to receive help on a real-time basis.

Better customer service ranking

twitter.com/comcastcares
@Comcastcares

twitter.com/firefox
@Firefox

twitter.com/pandora_radio
@Pandora_Radio
2. Microburst Sales: These companies offer real-time, short-term sales anddeep-discount product offerings.

Increased sales

twitter.com/punchpizza
@PunchPizza

twitter.com/namecheap
@NameCheap

twitter.com/delloutlet
@DellOutlet
3. Crowd-Sourced Research: This includes polling of information as well as finding the correct contacts.

Finding information

twitter.com/skydiver
@skydiver

twitter.com/threadless
@Threadless

helpareporter.com/HARO
If your company cannot benefit from one of these three approaches, it is probably not essential to have a microblog or Twitter presence. Typically, a good microblog account requires constant updates and time, especially to get them up and running. If the time investment doesn't create profit worth more than the cost of time to build and manage a microblog, it isn't worthwhile. Instead, think about what your business is passionate about. What can your customers contribute? Answer your social media needs with these answers and research other opportunities to make an impact.
It seems as if Twitter has created a monopoly in the microblog world; however, there is no guarantee it will be around forever. The site has yet to make money, despite its popularity. Other seemingly popular sites have already been shut down (example: pownce.com). However, microblogging itself will stick around. Microblogging, as a service, is already a popular feature of the largest social networks: Facebook, LinkedIn, MySpace, etc. The microblog feature takes the form of a status update at the top of a profile page, often featuring links connecting to other sources.

Other sites have found useful ways to use microblogs. Check out this list of other microblogging sites with diverse and impressive features: