What we accomplished during our summer internship at Bozell.
This summer, we, the Bozell interns, worked with the Assistance League of Omaha. It is a local chapter of the national Assistance League and has been helping improve the lives of local people since 1972.
The amazing team of volunteers is dedicated to the needs of their neighbors. Whether the volunteer members are clothing schoolchildren, providing comfort to those in crisis situations or helping teen parents graduate, they are always looking to make an impact where it really matters – right here in Omaha.
It was the effective teamwork and inspiring passion of the Assistance League members that caused us to think of another team of heroic volunteers: the Justice League, a superhero comic book team. With this newfound inspiration, we formed our own superhero team in order to create an original and extraordinary campaign of "Everyday Heroes."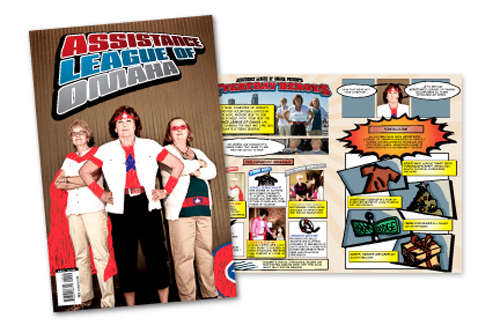 Bringing Everyday Heroes to life
One important lesson you learn in advertising is to know your client. And, knowing the professionalism of the Assistance League, we recognized that dressing up the volunteers in spandex, leotards and underwear on the outside of their clothing was not the way to communicate a superhero theme. So we did something a little different.
For all the visuals of the campaign, we featured photos of actual Assistance League volunteers performing the heroic tasks that they do every day, like counseling a young mother or giving teddy bears to children experiencing a crisis. And, instead of dressing up the volunteers in costumes, we chose to hand draw superhero elements (e.g., capes, gloves, masks) over the photos. Using this strategy, we were able to show that, while these volunteers aren't faster than a speeding bullet, what they do is more important, as their deeds provide real solutions for the community.
The Everyday Heroes campaign consists of a poster campaign, outdoor ads, radio public service announcements, social media and a new brochure for the organization.
Real Client, Real Agency Experience
One of the biggest lessons we learned as interns was that a great, complete campaign like Everyday Heroes does not simply come together on its own. It takes a process. This process included initial meetings with the client, researching and strategizing, writing briefs, presenting concepts and executing a creative vision. This intern project consisted of a lot of behind-the-scenes work and planning to make an idea a reality. With essential help and guidance from various Bozell employees, the interns were able to accomplish a working campaign and learn quite a few lessons along the way.