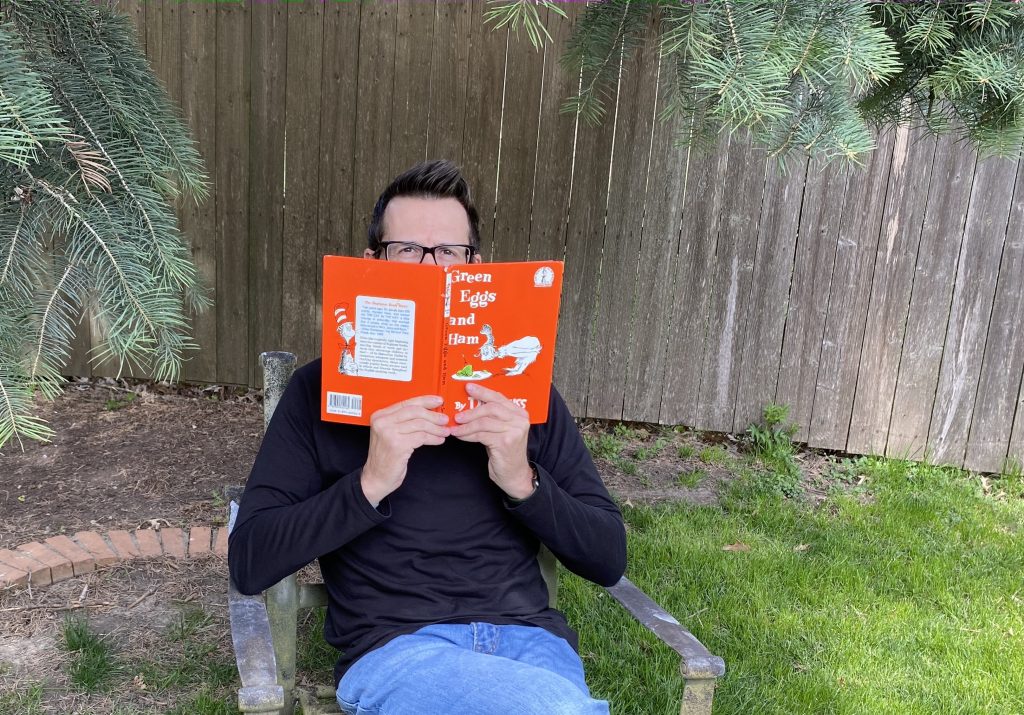 Here's why you'll never look at blogs the same again.
What's his story? What's her story? What's your story? Hey, want to hear a good story?
Of course you do. We all want to hear a good story. We have since we were children.
Oh, the Places Your Brand Will Go: Why Parents Should Read to Their Children, and Why Your Business Should Care
Here's a fun stat: Kids who are read one short book per day enter kindergarten hearing 290,000 more words than kids whose parents didn't read to them. (Source)
Here's another fun fact: Telling potential customers a good story increases their reasons to buy your products. (Source, source, source, etc.)
Consider that when parents read to their children, it:
Strengthens a parent's relationship with the child.
Develops a bond of trust with the child and parent.
Offers the child an experience with parents.
Now, go back and read that list again, and this time replace your brand or business for the word "parent." Then, replace "customer" for the word "child."
Telling your customers a good story, sharing an experience with them, maybe even teaching them something they didn't know – those are all effective ways to approach a blog post.
One Reason, Two Reason, Said Reason, True Reason: 4 Reasons Why Your Business Should Publish Blogs
We could present an endless list of reasons here, but if we've learned one thing about writing blog posts for businesses, it's that short-and-sweet is often the best approach. So here are four quick reasons:
Blogs establish your brand – your business – as an authority and a thought leader in your industry.
Blogs can serve as a foundation for a multi-level house of content that you build for your business. Each level represents a different area that the blog supports – from your business's social media platforms and email marketing to industry publications, chapters in e-books and lots more. In other words, blogs are a lot of cost-effective bang for your buck.
Blogs drive traffic to your business's website, where you can share more relevant content with potential consumers.
Blogs build relationships, create trust and offer your customers' an experience with your brand by initiating a dialogue.
The point is blogs work. And we have a success story to illustrate our point.
Keen Blogs and Not Spam: How We Convinced A Client to Try Blogs – and Why He Ultimately Loved Them
Blogs that tell a good story are welcomed. Blogs that are too sales-y comes across like spam. And nobody likes that.
But no matter how many reasons we offer to why blogs are good for business, sometimes a client says they don't have a taste for them. But we think that's just because they haven't tried them.
Case in point:
Us: Try a blog and you will see. You will see how your business grows.
Client: I do not like blogs.
Us: Would you like them on your social channels, would you like them on your website? Would you like them in an email?
Client: I would not, could not like them there, I do not like them anywhere.
Us: You do not like them, so you say. Try them, try them, and you may.
Long story short: We talked the client into letting us write a series of blog posts for their business. Here's what happened:
The blogs struck a chord with their customers.
The blogs, anchored on their website, were teased in posts on the client's social channels and via their email list.
The blogs were liked, shared and spurred higher SEO rankings as the clicks led to more website visits.
Customer loyalty grew. And so did sales.
With fresh content in the form of blogs living and breathing on your website, you are building SEO muscle for your business. That means potential customers can find your business much easier.
That client today: I like blogs, I do, I do – I do love blogs. I like them on my website, I like them on my Facebook and on my Instagram. I like them in my emails – I like them everywhere!
I am blog. Blog I am.