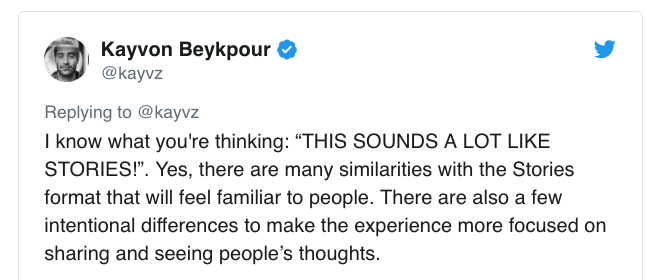 With new developments in facial recognition software (hello, Clearview AI), online hackers becoming more and more sophisticated and privacy concerns growing amid social media users, it's no wonder the average person is turning inward to reflect on just exactly who they're sharing their content with. People are starting to opt for Close Friends Stories on Instagram and private Facebook Groups to ensure their content is going to only people they trust.
Because of this, we've seen a steady upward trend in advanced and customizable privacy settings on social media in recent years, and we're guessing this is just the start of it. Just a couple weeks ago we saw the news that Twitter acquired an app that helped Instagram users create unique content for their stories, Chroma Labs, and people were predicting that this would lead to Twitter onboarding a stories-like platform addition in the future. This week, those predictions have proven accurate!
Fleets are a way to share fleeting thoughts. Unlike Tweets, Fleets disappear after 24 hours and don't get Retweets, Likes, or public replies– people can only react to your Fleets with DMs. Instead of showing up in people's timelines, Fleets are viewed by tapping on your avatar. pic.twitter.com/sWwsExRLcJ

— Kayvon Beykpour (@kayvz) March 4, 2020
With Twitter's Fleets, we see an eerily similar version of Instagram Stories meant to emulate a lot of the same benefits, such as sharing to a select group of followers or hiding your content altogether from select people. It also has the advantage of giving Twitter users the option to be less performative – i.e., worrying about how many likes and retweets they'll get. After all, how many of us have tweets stored in our Drafts that we never published because we weren't sure how they'd 'perform'? 🙋‍♀️

I personally think this is the feature addition Twitter needs right now, and the way they chose to format it vertically as opposed to horizontally to differentiate from the Instagram navigation is smart, too, though we'll see if it sticks. Research on marketers and consumers alike show that stories-like content and private communities are both projected to increase in popularity and importance in 2020, so it's about time Twitter hopped on board to give its users the same customizable audience options they have available to them on other platforms.
Want more dirt on the new development? Read it straight from Twitter's product lead Kayvon Beykpour. Just don't ask him to get you verified, apparently.