If you're not in the world of higher education, November 1st is one day closer to Thanksgiving and a table full of comfort food. If you are, you know November 1st is the deadline for early decision (ED).
Regardless of if you're thinking about your turkey or applications numbers, November 1st can be a day of nerves and excitement. For educators and industry professionals, it's an indicator of the incoming class. And for potential students, it's a glimpse into their near future and new home.
But, with so many options for students to select, how can colleges and universities stand out to potential students? Our friends at Inside Higher Ed and I are here to tell you exactly what makes them tick.
Chart source: Inside Higher Ed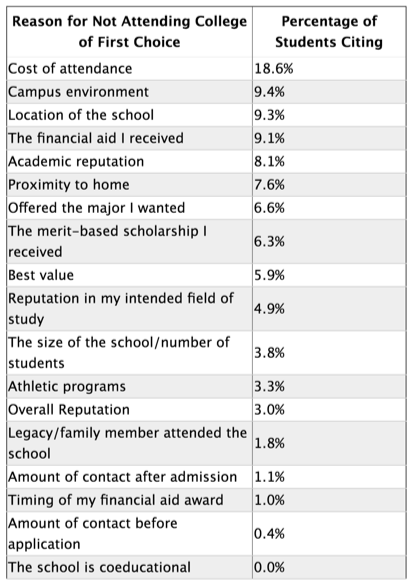 In 2016, Royall & Co. reported that 18.6% of students turned down their top institution based on cost alone. But that's not it, if you look at all four cost-related reasons for selecting a campus: (1) cost of attendance, (2) the financial aid received, (3) scholarships and (4) best value, 39.9% of students decide based on finances. What that shows us is students are much more cautious of their spending than in previous years. And second only to finances, is campus environment.
Our conclusion? Keep finances and extracurricular opportunities at the core of your message is essential.
Now, we don't advise pushing statistics and dollar signs in ads because that will more than likely overwhelm them. Instead, consider discussing potential savings with scholarships, opportunities on campus and in the community, and employment and job placement following graduation. And as for campus environment/experience, relevant need-to-knows include: organizations/activities available, athletic events and benefits – for example, do you cover student admission to games or do you have discounted student ticket prices?
All that being said, messaging is nothing without having a place for your target to see it. Gen Z is notorious for being a hard-to-reach audience and doesn't play well with typical advertising efforts. To reach them, use video-based platforms such as Snapchat, TikTok (formally musical.ly) and YouTube. (Forbes)
Good luck and happy application season!