"I've learned that you shouldn't go through life with a catchers mitt on both hands. You need to be able to throw something back." – Maya Angelou
I love that quote. And it's how I try to live my life. So it's great that I work somewhere that also has those values. Case in point is our recent 95th anniversary celebration.
We'd already done a variety things throughout the year to celebrate our anniversary – from historical stories to a big party for clients and friends, and kids at Jumper's Jungle that throw the . So when the team came up with yet another, very public idea – a pop up agency for the community, AKA Free Ad Day – I'll admit I was pretty hesitant. Their goal was to do work for 95 companies or people – all in the course of one single day – free of charge. And that meant shutting down the agency on a work day.
I'm all for giving back. Bozell has a long history of doing just that. In fact, one of the bedrock principles passed down from our founders, Leo Bozell and Morris Jacobs, is "you must pay rent for the space you occupy on this earth." So we are heavily and actively involved in the community on nearly every level. However, the idea of trying to help 95 people/businesses in one day with a staff of less than 50 people seemed like a Herculean task. But everyone felt strongly about the idea, so decided to move ahead. And in the end, we not only met our goal, we surpassed it by helping 111 people and/or companies.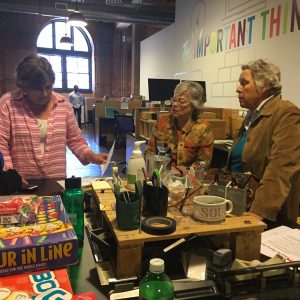 The whole effort was so moving – for all of us. More than we ever expected. And in ways we never expected. The morning started with Santa and Mary Claus (yes, they legally changed their names) needing help with some PR. There was a company that specialized in adaptive kayaking, several birthing services, departments of larger organizations, small businesses and area non profits. They kept coming. It was steady throughout the whole day. The harder we worked, the more energized the team became. We would announce throughout the day where we were at with the count and each announcement brought applause and more excitement.
And there was this kind of feedback from those we worked with. Like Terri Campbell – Director of Development, Gross Catholic High School:

It felt so good, all day, to use our time and talent to help these people and companies who could not otherwise afford the services of an agency. Even the most cynical of staffers couldn't help but get the feels. It was amazing. And along the way, we rocked it as a team, we did some great work and made a difference. We often overlook what we know and take for granted. We typically think a little bit of advice can't make much difference, but a day like this reminds you how much you can do. To me the whole thing was a win/win any which way you looked at it.
Click here to view all the pieces of work we completed. (Some were consulting/training or PR and those are not shown.)
Below is video of our 9-hour day compressed into two minutes. I think it perfectly encapsulates the fun and and excitement both our team and members of the community experienced.
Bozell has a strong track record of giving back to our community. And we've been recognized by many, including the Greater Omaha Chamber, as a good corporate citizen. There are times when we worry that we've donated too large of a percent of our time (especially when it crosses 20 percent of our total hours) and I'm sure others would say that it isn't the wisest business move, but it is in our DNA and it energizes our staffers. And I believe in the end, it helps us grow. So we get a lot out of it. And it works for us.
Imagine what we could do if, each year, all 66k+ U.S. agencies encouraged the 250k+ people employed in their shops to donate just 5 percent of their total work time to local community efforts. It would be game changing for so many community causes, nonprofits and small businesses. And I think it would be a morale building win for the agencies.
Save
Save